We were lucky enough to spend two months in an amazing 3-story house in Sucre. We highly recommend it to anyone looking for a comfortable place to spend their time in Sucre.
When we arrived in Sucre we stayed in a couple of hostels (Casa Verde and La Dolce Vita) before moving into an apartment in Sucre's peaceful Recoleta area. The apartment, which has sweeping views over the city, far exceeded our expectations. We had a great time there and got on really well with the owners Marcelo and Karla Romero who live upstairs with their two daughters. Among other things we had a very enjoyable night at Espacio Cultural Origenes with them and they even invited us to spend Christmas with them.
We were keen to extend our stay in the apartment, but unfortunately another booking had already been made. Happily, the Romeros had an another option. They were in the final stages of completing the construction of their new rental property, a beautiful little house located in nearby Calle Polanco, just meters from the pretty La Recoleta plaza.
About the Calle Polanco House
The ground floor consists of a living area and kitchen, decorated with African elements such as the beautiful tiling in the kitchen and the zebra print cushions in the living area. There is a large wrap-around sofa facing the large TV which comes with a range of cable channels in English and Spanish. Beside that is a wooden dining table with space for 6.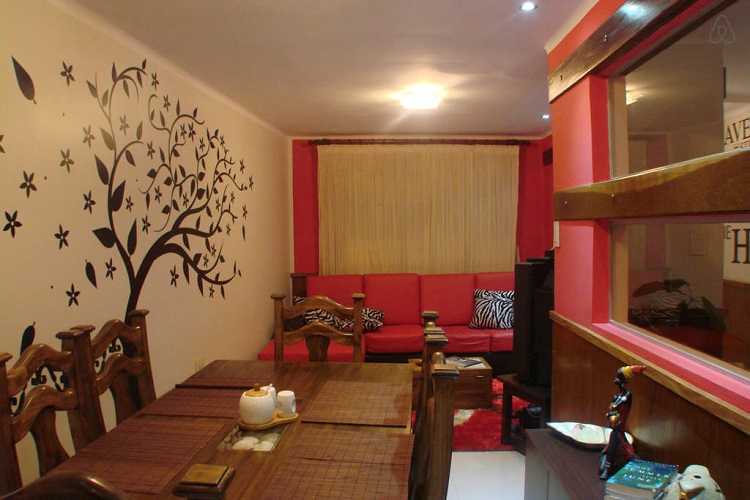 The kitchen, opens out onto the dining area, is neat and compact, with everything you are likely to need including a gas cooker, full-sized fridge-freezer, microwave and blender. Next to the kitchen is a small bathroom.
Sucre Life Quick Tip:
As voted the best way to travel around Bolivia and Peru, we highly recommend choosing Bolivia Hop as your means of transport. Their safe, flexible and trustworthy service have proven to be the best way of getting the most out of your time in South America!
Upstairs, on the first floor, is the spacious master bedroom (with double bed) which has a door out onto a narrow balcony overlooking Calle Polanco, the perfect place to watch the Carnaval of Yesteryear parade which passes right by the house. Above the bed is a large painting of flowers done by Karla herself. Beside the main bedroom is a pretty guest room with a single bed. Next to this is the master bathroom, a large modern bathroom with an amazing shower (with on-demand hot water).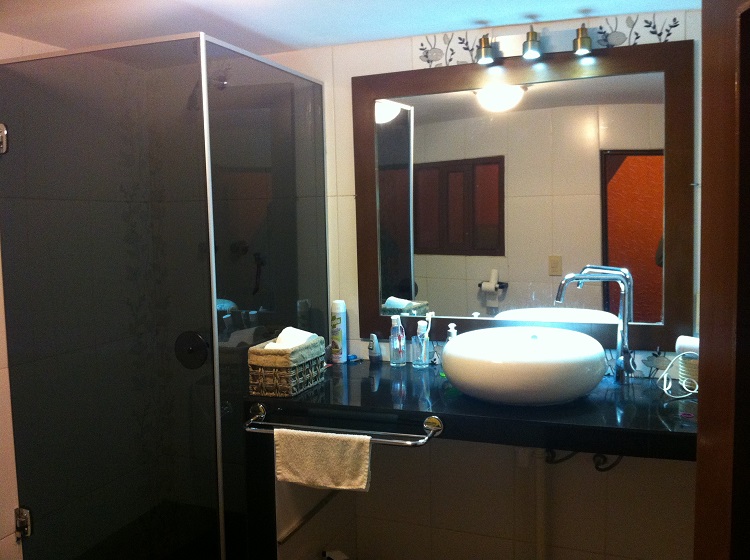 Carrying on upstairs, you reach our favorite floor of the house. At the top of the stairs, believe it or not, is a beautiful wooden bar, complete with bar stools. A glass door opens out on to an open air patio area with views across to nearby Sica Sica hill. The outdoor area comes complete with table and chairs and even a sun umbrella (something of a rare find in Sucre, I'm led to believe). The outdoor area gets the sun virtually the whole day.
The house has good WiFi thanks to a 4G WiFi modem by Viva with download speeds of 1-2 Mbits/s (actual speed, not claimed speed). The modem itself had a fairly weak WiFi signal, so we bought a TP-Link WiFi router which boosted both the speed and the signal, so that now there is a great signal throughout the house (including on the rooftop terrace). We left the router when we moved out so that everyone else can enjoy it too.
The house is located in Sucre's lovely La Recoleta area, a 10-15 minute walk to the center of town, straight down Calle Grau.
Renting the Calle Polanco House
At the time of writing (July 2014), the house is priced at $27 per night, $192 per week, or $658 per month – and it's definitely worth it.