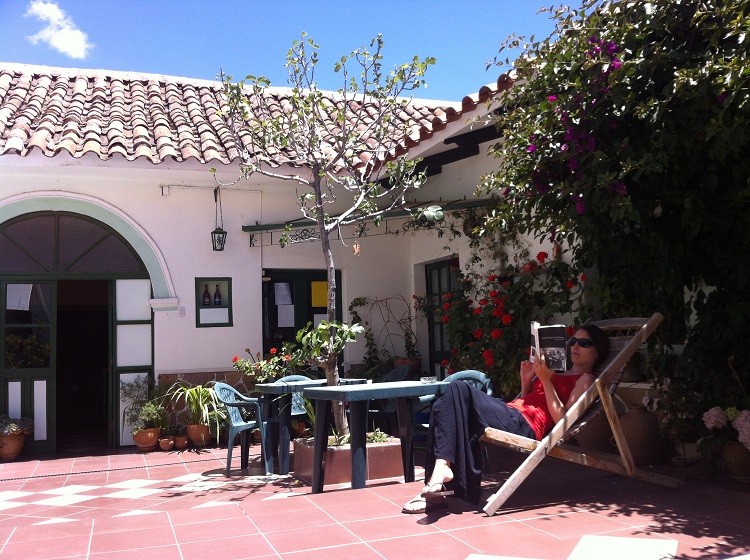 Casa Verde B&B is located on Potosi street within easy walking distance of Sucre's central square, Plaza 25 de Mayo. The quiet, pretty B&B offers 6 guestrooms.
There is a communal kitchen, dining and lounge area. There is a central courtyard with sun-loungers. Beside that is an indoor pool, but it is not currently operational.
Casa Verde offers 6 rooms of various sizes: single room (US$23), twin / double room ($40), family room / superior room / triple room ($57). Taxes are included in the prices. The rooms are slightly worn, but comfortable, quiet and spacious. They have cable TV, and showers with plenty of hot water and good pressure. Wifi is available throughout the common areas, and to a lesser extent in-room. There are also Internet-connected computers for guest use.
Check-in is between 7am and 10pm, and check-out is at 11 a.m. It is best to make sure Casa Verde know your approximate arrival time to ensure that your room is held.
Casa Verde serves a hearty breakfast in the communal dining area. It consists of a large piece of fruit (papaya, pineapple or melon), bread rolls and jam, yogurt and cereal, and bacon and eggs. This is served along with coffee / tea and fruit juice. Breakfast is served from 7.30 – 10am.
A laundry service is available at the B&B.
Casa Verde is a great place to rest, relax or catch up on some sleep. It's also a good base for exploring Sucre's sights.