This is the first in a series of posts on Sucre's Carnaval celebrations.
Each year on the Saturday before Ash Wednesday, the usually tranquil city of Sucre comes alive for Carnival. The unique festival features spectacular folk dances, extravagant costumes, beautiful crafts, lively music, and up to 20 hours of continuous partying. 
Here's what to expect in one of the most diverse and interesting Carnavals around!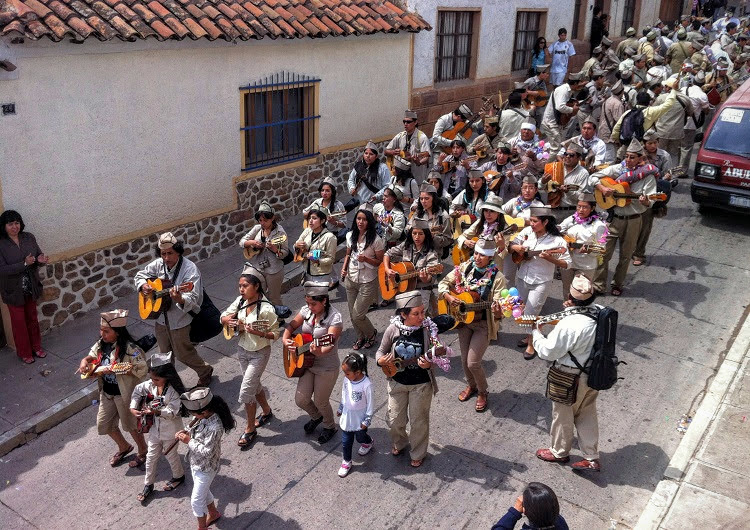 For many years, Sucre was home to the biggest Carnaval in Bolivia, thanks to the wealth pouring from nearby Potosi's silver mines. A decline in silver production, coupled with strict restrictions on celebration times imposed in the late 70s saw the focus of carnaval celebrations shift elsewhere in Bolivia, most notably Carnaval de Oruro.
Now though, Sucre's Carnaval celebrations are in the midst of a revival, due to a concerted effort to reinstate traditional celebrations.
The Carnaval Experience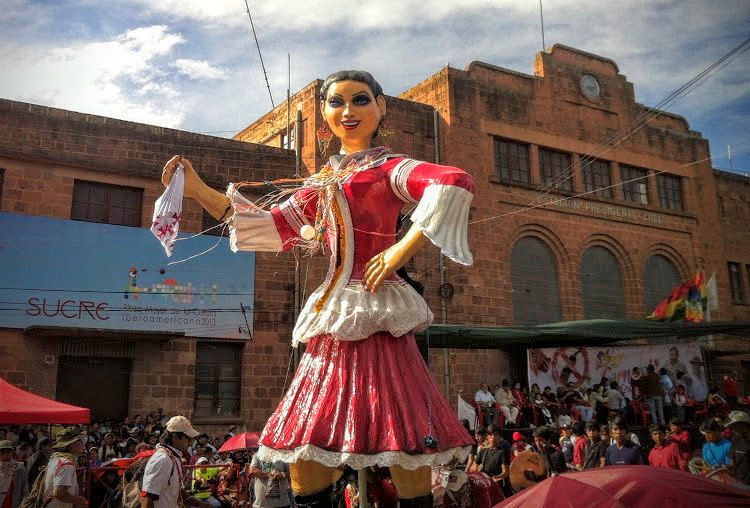 The first hints of Carnaval fever begin weeks before the main Carnaval weekend. You may see a few unexplained patches of water as you walk round the city. You may even see a few stray water bombs being thrown. Be warned that these are but the first shots in a war that will eventually grow to engulf the entire city. By the time Carnaval strikes every time you step outside you'll be entering one of the world's largest water fights. Every trip you make will leave you soaking wet as water balloons, spray foam, water pistols, overhead water drops (think buckets and balconies), and even drive-by soakings confront you at every turn.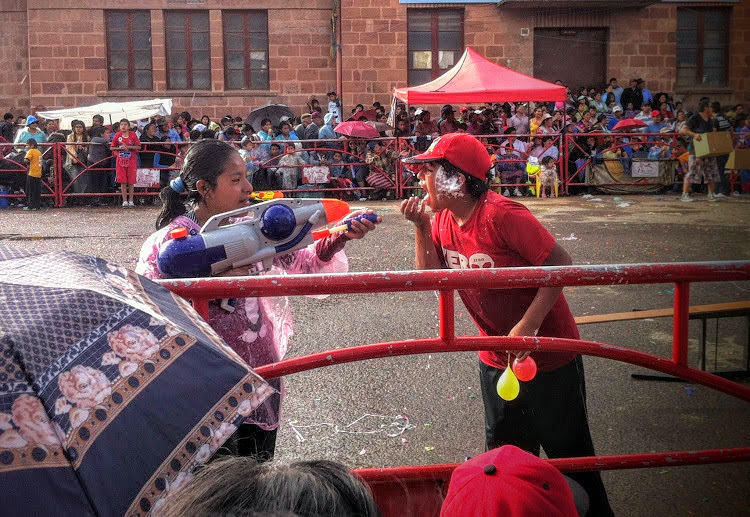 See here for a list of Sucre's 2016 Carnaval dates
Sucre's Carnaval officially begins with the recently introduced Carnaval of Yesteryear. The Carnaval of Yesteryear seeks to preserve and showcase traditional music and dance from Sucre and the surrounding region. It's opening is marked by a day of food, dance and activities at La Recoleta, culminating in the crowning in the Queen of the Carnaval of Yesteryear.
Coinciding with the Carnaval of Yesteryear's opening is a native parade, La Entrada Autóctona, which showcases performances from the surrounding villages and towns.
The first week of Carnaval sees a number of activities take place, beginning with a concert of estudiantinas in el Palacete de Guereo. The next day sees the unique celebration of Compadres, which sees Sucre's men partying and celebrating their friendship while been attended to by the women. This is followed by pageant-like selection and crowning of the Cholita Queen and Queen of the Carnaval Grande de Sucre in the open air theatre on Friday, and the crowning of the Children's Queen on Saturday in Parque Bolivar.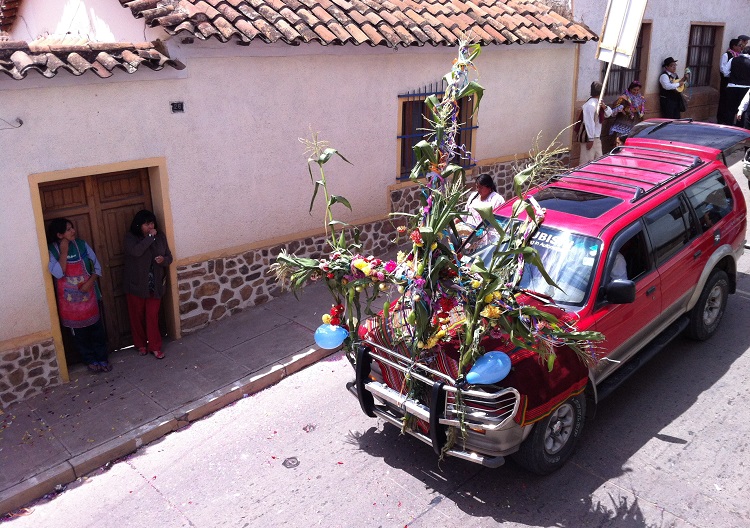 Sunday then sees the continuation of the Carnaval of Yesteryear with a parade with traditional dancers and musicians making their way from La Recoleta to the centre of town, accompanied by a procession of traditionally decorated floats.
The next Thursday, just before Carnaval weekend, sees the roles reversed from Compadres as it the women who get to celebrate on Comadres, in a sort of giant hens' night.
The main day of celebrations is held on Carnaval Sunday. The morning starts with a children's parade. In the afternoon, the biggest parade of the season, the Carnaval Grande de Sucre, weaves its way from Stadium Patria to Plaza 25 de Mayo. The parade features  features dancing, music and colorful, elaborate floats decorated to depict a wide range of artistic, historical social and even political themes. After the parade the participants pay a visit to their families before returning to the center of town to dance the night away in a sea of water bombs and music. Today and throughout the Carnaval period, copious amounts of traditional cuisine and drinks are enjoyed, such as the popular leche de tigre (a traditional milk-based alcoholic drink).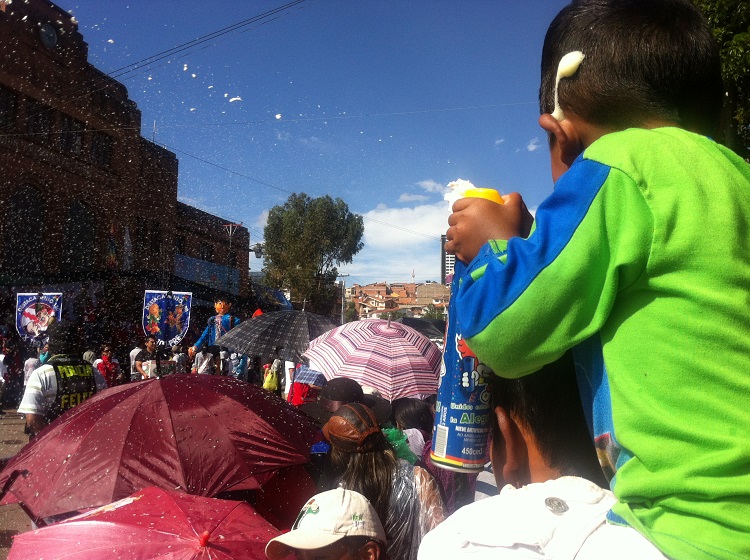 The following Tuesday is Shrove Tuesday / Mardi Gras, which also sees parades in celebration of "Martes de Challa", an Andean day of worship to Pachamama (Mother Earth).
With the arrival of Ash Wednesday, Carnaval celebrations in Sucre and elsewhere come to a close and both the celebrations and the water wars come to an end.
The following 40 days are the period of Lent during which Bolivia's Catholic population abstain from eating meat of Fridays (the Latin for "remove meat" is "carne levare", from which the word Carnaval is believed to be derived).
Where To Stay In Sucre For Carnaval
Because Carnival is such a popular event, accommodation is often booked out months in advance. Travelers should plan to book as early as possible and expect to fork out a bit more than the usual price for a room. For accommodation recommendations in Sucre check out the following posts:
Tips For Attending Carnaval In Sucre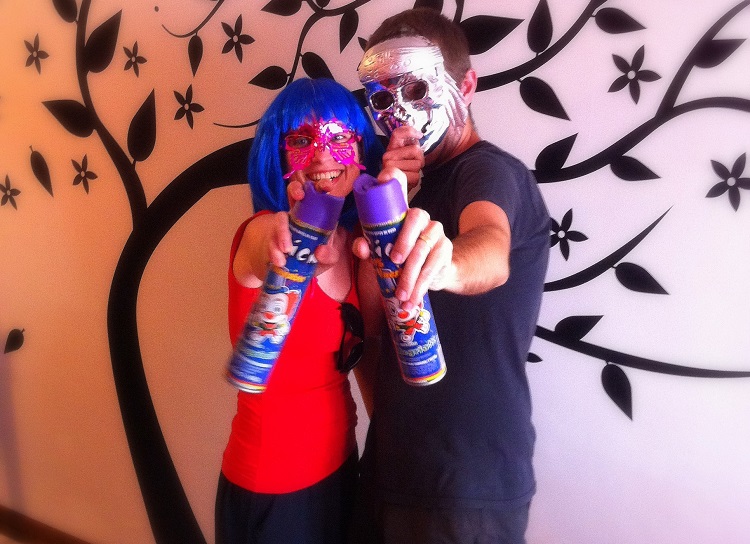 Travelers participating in Sucre's Carnival will delight in the frenzied dances, colourful costumes, traditional drinks and upbeat music. Celebrations involve lots of water bombs, water pistols and spray foam so expect to get soaked regardless of which day you attend.
Like any major festival around the world, crowds get rowdy and petty crime does occur, therefore it's recommended to leave valuables at home and not drink to access. If offered the typical drink chicha, proceed with caution as it's very strong and causes terrible hangovers.
While Carnival can be experienced on your own without a tour guide, keep in mind that this time of year is extremely chaotic in Bolivia so be prepared for things (transport, schedules, etc.) to not go according to plan.
Have you attended Carnaval in Sucre? Share your experience below:
Featured Photo by Jorge Mejía peralta