Sucre will be hosting a 10km running race, the "2da Carrera Pedestre Presidente Evo Morales".
There is a total of 217,000 bolivianos ($31,400) in prize money up for grabs by the top 10 finishers (male and female). Top placed runners are also awarded points, and the male and female runners with the most points accumulated in a series of races like this being held round Bolivia will be eligible to represent Bolivia in the San Silvestre race held in Sao Paulo Brazil on the 31st of December.
Race Details
The race will begins at 8am at the ex-station Aniceto Arce (located just over the road from the far end of Parque Bolivar). The 10km route makes a wide loop, first heading past the bus station and up beyond the Avenida de las Americas before passing just downhill from La Recoleta on the way to Plaza 25 de Mayo. Then it's on to the General Cemetery before heading to the finish line back at ex-station Aniceto Arce.
There will be hydration points at the 3, 6 and 9km points, as well as at the finish line.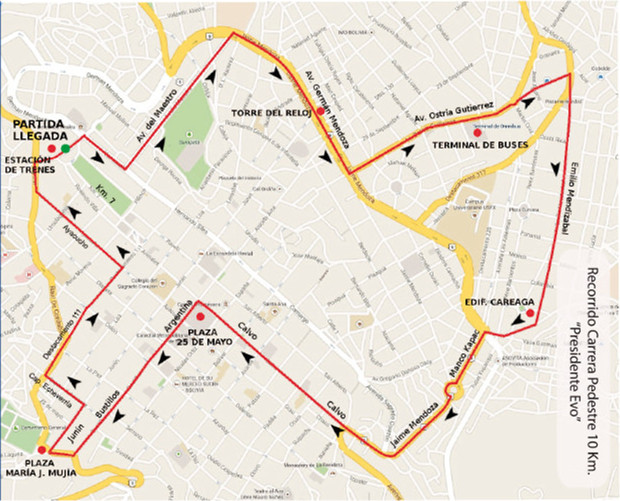 Registration
You can register for the race online on the Ministry of Sports website: www.mindeportes.gob.bo.
Alternatively, you can register in person at the SEDEDE office located in Stadium Patria.
Results
A total of 14,128 runners who took part in the race. 
The woman's title went to Cochabamba's Rosmery Quispe who finished in a time of 37 mins and 41 secs.
The men's category was won by Daniel Toroya from Oruro who finished in 32 mins and 22 secs. 
Congratulations to all involved!