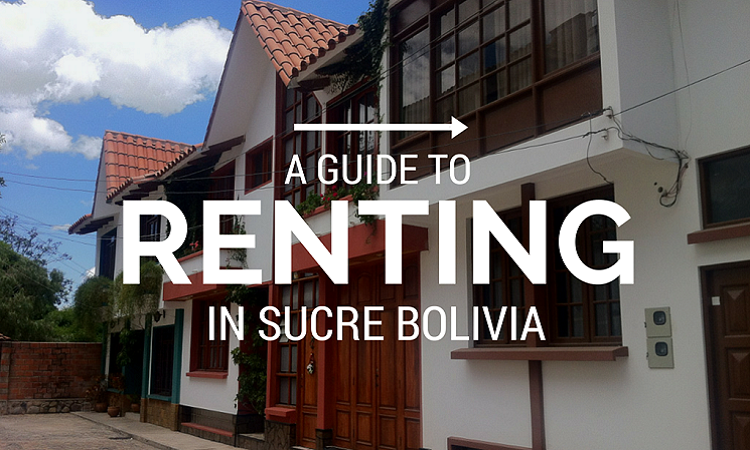 Two common reservations we hear about Sucre's suitability for longer-term visits and as an expat destination are poor internet speeds and a lack of apartment options. We've already notedthat Sucre's Internet speeds have drastically improved of late. Now here's our guide for finding an apartment or house in Sucre. Like any other city there are plenty of options – it's just a case of knowing where to look.
Rental Listing Sites
There are a number of property rental sites with apartments and houses for rent in Sucre.
Inmuebles en Sucre – One of the best sites we've found for property listings of all types in Sucre is inmobiliaria.com. Their Sucre property listings page has a wide selection of properties and can be sorted by property type, number of rooms required, etc. As well as rentals it is also the place to find properties and land for sale. Note that the site is in Spanish.
ArrangeYourVacation.com – It doesn't have as many options as Inmuebles en Sucre, but English language ArrangeYourVacation.com does have a few Sucre vacation rentals listed.
Doplim – Doplim is a free Spanish classified ad site which has a good selection of rental properties in Sucre listed.
Evisos – Similar to the others, Evisos has as range of places for rent. Use the box in the top left to filter for casas (houses) or departmentos (apartments), or you'll have to scroll through a range of other "accommodation" options such as wedding marquees.
Yakaz – Another Spanish site with a selection Sucre properties is Yakaz. It's an aggregator which mainly seems to show listings taken from Doplim and Evisos, but may be worth a look.
Tuinmueble – Mainly featuring houses for sale in Sucre, Tuinmueble also lists the occasional apartment rental. You can filter the results to show rentals by clicking "alquiler" in the sidebar.
Sublet.com – Another English language site, sublet.com has a small selection of Sucre properties listed.
AirBnB
AirBnB designed to allow property owners to rent out their available rooms, apartments and houses. It's a great site for finding places to stay, and one we've used it extensively during our travels. In fact many of the best apartments we've found while traveling were through AirBnB. There aren't a huge amount of Sucre properties on AirBnB at the moment, but there are a few and it's catching on.
Here are a few Sucre AirBnB properties we've written about before.
Apartment Blocks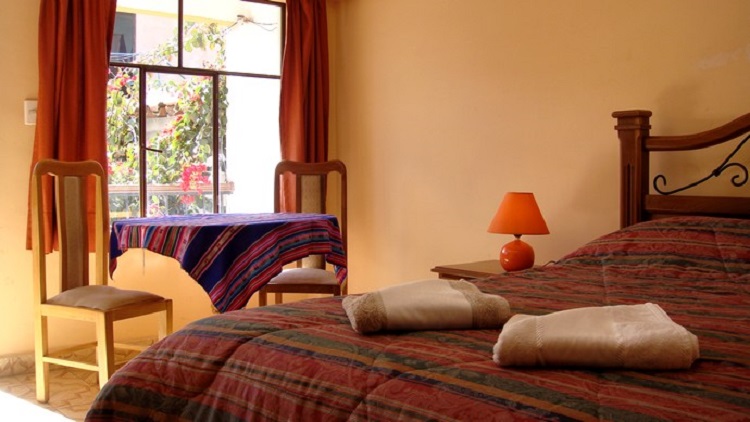 There are a number of dedicated apartment blocks scattered around the city.
Here are a few options:
Apart-Hotel – a four-story apartment block with apartments with space for up to 5 people.
Villa de La Plata Guesthouse – Part hostel, part apartment block, Villa de La Plata offers a range of basic studio apartments fitted out with a fridge, kitchen area and bathroom. It can be found at Calle Aniceto Arce #369.
La Villa Francesa – part of the French consulate, La Villa Francesa has 3 beautiful, centrally-located French-style studio apartments available for rent.
Sucre Life Quick Tip:
As voted the best way to travel around Bolivia and Peru, we highly recommend choosing Bolivia Hop as your means of transport. Their safe, flexible and trustworthy service have proven to be the best way of getting the most out of your time in South America!
Real Estate Agents in Sucre
Sucre has a number of real estate agencies, or inmobiliarias, who can help find apartments for you.
Three of the largest and most central are:
Inmobiliaria Ripersa – Calle Nicolas Ortiz 151
Santa Rita Servicios Inmobiliarios – Calle Ravelo 233
Omar Salame – Calle Bolivar 618
There is a full list of Sucre-based estate agents on inmobiliaria.com.
Apartment Listings in Local Papers
Local newspaper Correo del Sur runs a regular classified section which includes listings for apartment rentals.
Sucre Life Accommodation Section
Don't forget to have a look through our section on accommodation in Sucre, which covers a range of accommodation options in Sucre, including apartments, B&Bs, hotels and hostels.
Apartment Hunting Tips
Anticretico (aka renting for free)
Rent on many properties, particularly those targeted at tourists are carried out in a manner familiar the world over – you pay rent by the week or month and may be asked for a deposit which is returned at the end of your stay. However, another fascinating rental method is traditionally used in Sucre and you may occasionally see it being offered.
Called anticretico, the method works as follows. In order to rent a property, you pay a lump sum to the owner at the start of the rental period. You then stay in the property for the agreed length of time – at the end of which the owner returns all of your initial payment. So in effect you pay absolutely nothing for the rental! What's more, a contract is usually drawn up transferring ownership of the house to the renter in the event that the lump sum is not returned.
Of course, there is a benefit to the owner too. Rather than receiving rental income, the owner is in effect receiving an interest-free loan and simultaneously bypassing the need to obtain approval from a bank. The owner can then earn money by using your lump sum to invest, start a business or simply earn interest in the bank. The threat of a loss of their property is a strong incentive to use your money wisely!
"Apartment For Rent" Signs
Before coming to Sucre we read online that a good way to find an apartment was to wander round town looking for buildings with an "apartment for rent" sign outside (in Spanish, of course). This advice doesn't seem to apply any more; in 5 months I never once saw such a sign, and we had friends who spent an entire day walking around looking for one only to draw a blank. You may get lucky and find an apartment this way, but don't rely on it.
Do you know of any other apartment options in Sucre? Let us know in the comments…