Emerging from a long chain of mountains dotted with canyons and waterfalls is a picturesque town located just 17km from the historic centre of Sucre. Founded on November 18, 1912 under the chairmanship of Eleodoro Villazon, Yotala is a journey back in time, characterised by colonial architecture, narrow cobbled streets and a traditional way of life.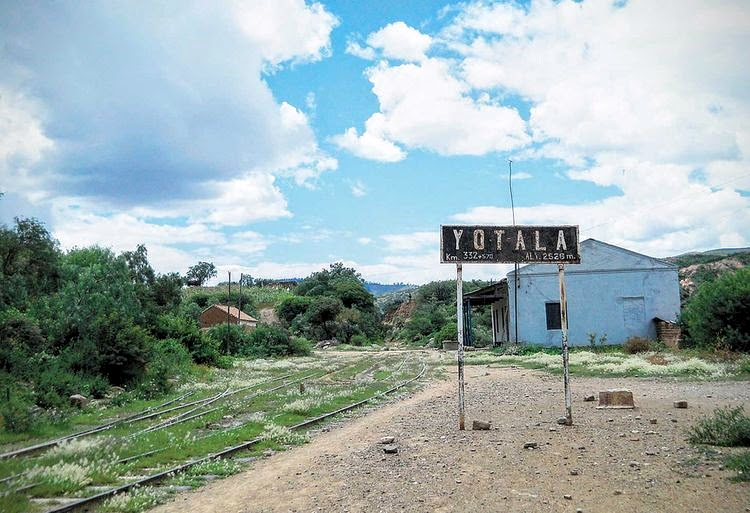 Often referred to as La Huerta (or the garden of Sucre), Yolata's old haciendas blend into the natural landscape, a valley of colorful gardens and fertile farms. It is a wonderful weekend setting for those looking to escape the hustle and bustle of city life and get in touch with nature.
Crossing a small stream via a hanging wooden bridge, visitors are greeted into Yotala by a statue of Jesus. Featuring a quiet atmosphere of small squares, cafes and restaurants, the central plaza is where locals gather during the day, sitting, socialising, selling food and simply enjoying the quiet life.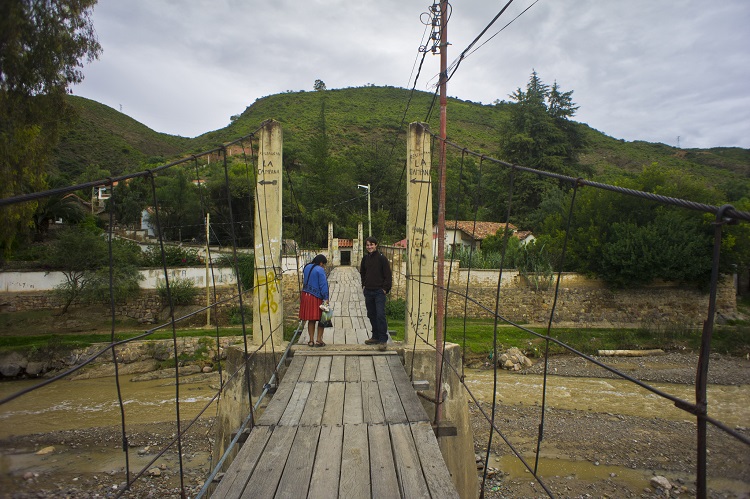 Walking through the narrow streets you pass by a number of well-maintained structures featuring sunlit patios, tiled roofs and arched entrances. Some of the most notable of these are the Cantu Ñucchu, an imposing building that belonged to the former president Gregorio Pacheco as well as the Pintantorilla hacienda, a beautiful building situated on the slopes of Cerro Obispo, belonging to José Mariano Serrano, a hero of the independence of America.
As well as being a place of rest, Yotala is also known for its association with Bolivia's higher education and the arts. The Faculty of Agronomy of the University of San Francisco Xavier, donated by Clotilde Urioste Villa, is run on a huge estate which receives a large influx of students and researchers each year. The town is also the home to the Teatro de los Andes, headquarters of one of the country's most legendary artistic groups and a peaceful retreat for artists to develop their activities and exhibitions.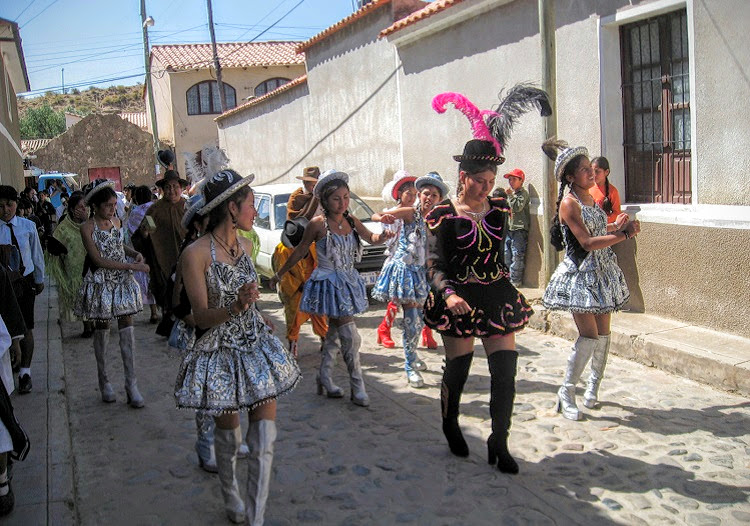 Yotala is predominantly made up of local indigenous communities who have managed to preserve their customs, traditions and clothing in their increasingly modern lifestyle. Around 9,400 Yotaleños reside in the region, a large percentage of which speak Quechua; a native South American language spoken primarily in the Andes. The local economy is based predominantly on agriculture and livestock as well as flower and milk production, carried out in old farmhouses dotting the landscape.
Sucre Life Quick Tip:
As voted the best way to travel around Bolivia and Peru, we highly recommend choosing Bolivia Hop as your means of transport. Their safe, flexible and trustworthy service have proven to be the best way of getting the most out of your time in South America!
Top Things To Do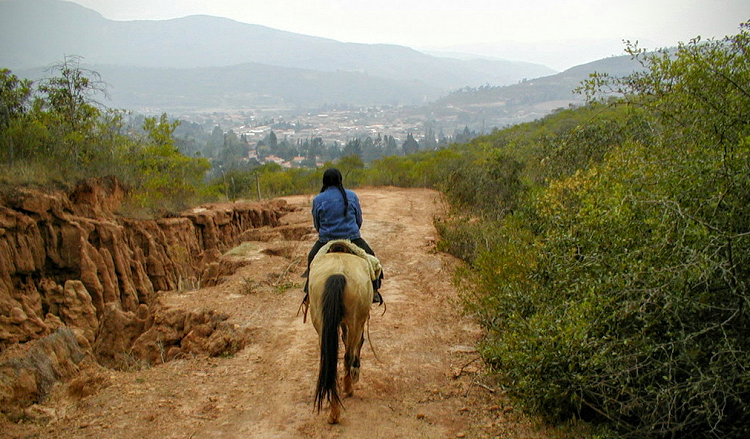 1. Mountain Biking
A 5-6 hour round-trip from Sucre, cycling along the dusty road to Yotala is a challenging yet wonderful way for travelers to experience the stunning countryside of the region. Passing through quiet villages on little-used dirt tracks, you will enjoy a real workout as you make the steep 30 minute climb to Yotala. Once in the village you can enjoy a bite to eat after which you can either take a car home or ride the remaining 12km back to Sucre, this time on asphalt road, stopping to see Castillo de la Glorieta along the way.
Mountain bike tours can be arranged in advance with your hostel or through Joy Ride tour agency.
2. Horseback Riding
A fun way to experience the amazing views over the "Cordillera de los Frailes" mountain range is to take a horseback ride from Yotala.
Tours generally start in the twin peaks of Churuquell and Sica Sica, where you will be introduced to your horse and given instructions on how to ride. During the 3-4 hour tour you will see, in the distance, the Glorieta Castle, the Cordillera de los Frailes, Bishop Hill and the Valley of Yotala. Finally, you will be taken to a place where you can rest and have a bite to eat, soaking up the fresh mountain air before making your way back to Sucre either by public transport or by horse.
You can organize a horse riding tour through Joy Ride, Bolivia Specialist or Sky Hacienda
3. Quad Biking
Off Road Bolivia provide full day, 60km tour, which passes through a number of small villages including Yotala. Its length and terrain make it a moderate to challenging ride.
Included in the tour price are lunch, a drink, all safety equipment, training time (20 mins) and transport. You are required to have a driver's license to ride the quad bikes. Travel insurance is also required.
4. Santa Rosa Festival
For those who love a good party, Yotala is the venue for the Festival of the Virgen of Santa Rosa, a cultural event held on August 30th each year to honour the patron saint of the region.
Thousands of people from all over the country flock to the village to pay homage to a religious statue kept inside a small, unimposing church. Once the prayers have ended, everyone spends the remainder of the day partying, drinking and eating local dishes in preparation for the main event; Bolivia's answer to running with the bulls.The great bull fight involves putting a herdof angry bulls with money strapped to their horns inside a corral while young men from the town chase them, trying to grab a few dollars from the back of the beasts.
Where To Stay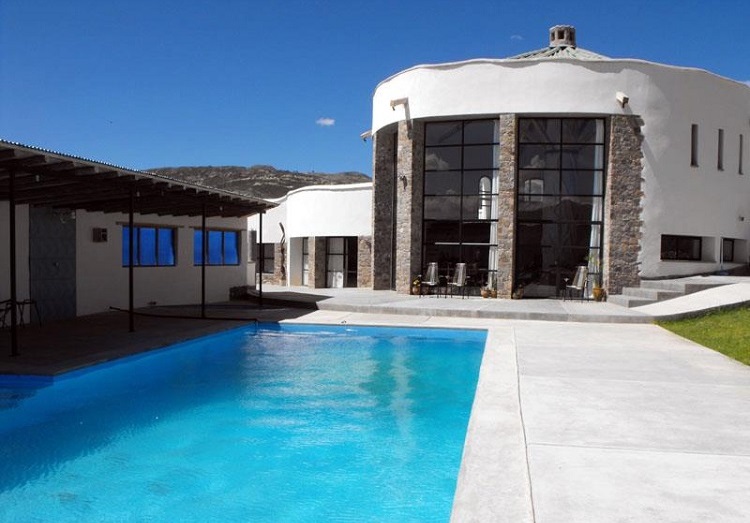 Mosoj Llajta, Quebrada cochis, Yotala (5 minutes from the bridge at Totacoa on the main Sucre to Potosi road)
Looking to recharge the batteries? Sky Hacienda is a luxury boutique hotel located only 20 minutes from Sucre. The architecturally unique dwelling offers guests the chance to relax in a tranquil setting whilst enjoying delicious food, wine and impeccable hospitality. Offering only two rooms, they are able to be attentive to their guests needs with individual service of a high standard.
Prices range from $107 US for a double room to $141 US for a deluxe suite
Reservations: Booking.com
Cabaña El Rosedal
Offering exclusive access to an indoor pool, terrace and sauna, Cabaña El Rosedal provides guests a tranquil place to rest in Yotala. Accommodating 5 guests, the bungalow features garden-view rooms, a full kitchen with microwave, communal lounge, games room and two shared bathrooms (one with a shower).
The price is $56 US per night to rent the bungalow
Reservations: Booking.com
Where To Eat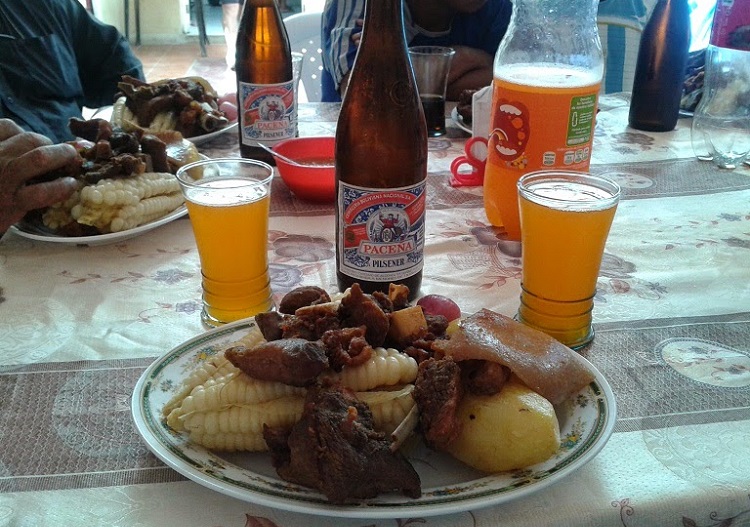 Food in Yotala is characterised by a combination of Quechua and Spanish flavours. One of the most popular dishes to eat on the weekend is Asado de Chancho, a pork dish cooked in a clay oven, served with red pepper sauce and a special bread based on an ancestral recipe. Pastries stuffed with goat cheese are another culinary tradition, as is chicha, the region's main alcoholic drink.
Being a small town, Yotala only has a limited number of places to dine. There are several cafés and small restaurants serving regional specialities located on the plaza as well as on the main road leading into town.
On the main road to Yotala 12km from Sucre
An excellent restaurant, where you can taste the spicy delights of the Chuquisaca region.
Rosso Antico
On the main road 16km from Sucre
A lovely place surrounded by nature and tranquillity, Rosso Antico serves delicious Italian cuisine using fresh produce from the region.
Villa Norita
Avendi Nestor Paz Galarza (on the main road 1km from Yotala)
A great place for families, guests can enjoy a good choice of set meals and regional dishes after a dip in the pool.
How To Get There
Minibuses leave from opposite Sucre's Mercado Campesino about every 15 minutes. The trip along the highway to Potosi takes less than an hour and costs around $0.20 US one way.
Have you been to Yotala? Share your experience in the comments below: