Running Route: La Ruta de las Iglesias (9km)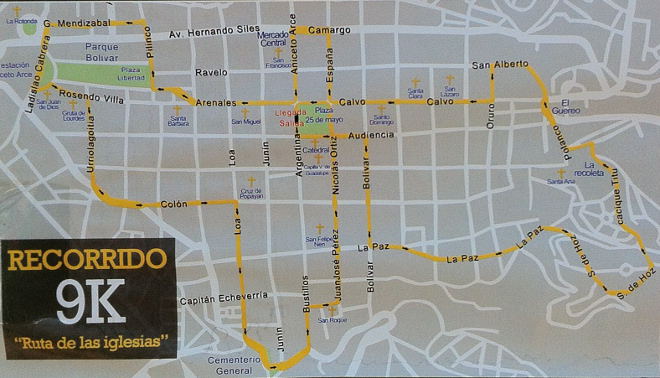 Above is the route map for the Ruta de las Iglesias 9km fun run. The course takes you past many of Sucre's churches, and is a moderately tough run due to the hilly nature of the route. In particular the run up to La Recoleta is not for the faint-hearted. That said, it's a good route to run to take in the city's sights and some of its outlying areas. Here's a breakdown of the course.
The route begins outside Casa de la Libertad and swings round past the Metropolitan Cathedral.
You then turn into Bolivar for a slight down hill section before rising again to meet La Paz. At this point you may think you've got lucky leaving Bolivar just before a short, steep uphill section, but you haven't. La Paz begins as a flat stretch through a narrow street, before widening and evolving into a slow, punishing climb through some of Sucre's less developed neighborhoods up towards La Recoleta monastery and Santa Ana.
The route runs round the back of La Recoleta, giving only glances of the plaza there. If you're still having fun at this point and want to make the route up to 10 km, a few laps of the plaza would be a good way to do it.
Next comes a welcome downhill section, looping round San Alberto before joining Calvo. Now it's a straight run back towards Plaza 25 de Mayo, taking in San Lazaro, Santa Clara and Santa Domingo on the way.
At the Plaza, turn right for two blocks then left for one before heading back towards the plaza past the San Francisco Basilica.
Head right at the Plaza and you'll pass San Miguel on the left and then Santa Barbara. By this point, you're at Plaza Libertad, and a diagonal path through it brings you out at the entrance to Parque Bolivar.
Don't enter the park, but instead turn right and head several block over, before turning right on G. Mendizabal, which will take you all the way to the La Rotonda at the end of the street.
Left turn, back towards Parque Bolivar and after at the end of the semi-circular park on your left, turn left and then right, passing San Juan de Dios and Gruta de Nuestra Señora de Lourdes as you do.
Next comes a long undulating stretch along Urriolagoitia, Colon and Loa towards the General Cemetery.
The route then turns, heading back into the center. A short climb to San Roque and then it's a straight run and a final climb past San Filipe Neri.
Then it's back to Plaza 25 de Mayo for the final sprint to the finish!