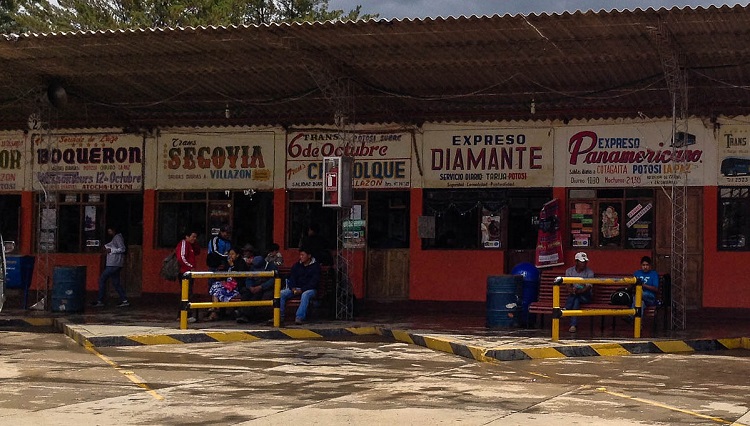 Situated at dizzying heights in the arid Altiplano region of Bolivia, Oruro is a sleepy mining town home to one of the most famous festivals in all of South America. Aside from Carnaval, the main reason tourists travel between Sucre and Oruro is to catch a connecting bus onto La Paz or to take the train to Uyuni.
Oruro doesn't have an airport, therefore the only way to get between Sucre and Oruro is by bus. The following outlines the main travel route between the two cities, departure times and bus company recommendations:
Buses between Sucre and Oruro
The road between Oruro and Sure is mostly paved, making for a smooth and pleasant bus ride. From Oruro, the road runs straight and smooth (with only the occasional bump) almost until Potosi at which point it starts to gently meander through the hills, culminating in some beautiful sunrise views of the town.
The curves gradually sharpen on the trip between Sucre and Potosi, but never reach the point of discomfort – the curves are quite long and slow so you don't really notice them much. All in all, the journey between Oruro and Sucre is one of the better bus journeys to be made in South America.
The trip takes around 10 hours with all buses required to make a stop in Potosi where you may need to change buses.
Bus Schedule and Prices
Please note: The below information is a guide only and should not be used as your sole means of trip research. When planning travel between Oruro and Sucre we suggest going to the bus terminal or to a travel agency to acquire the most accurate and up-to-date information.
Prices
Cost for a one way bus ticket between Oruro and Sucre are as follows:
Bs. 50 ($7) for a seat on a normal bus
Bs 55-124 ($8-18) for a semi-cama seat (140-degree reclining seats)
Bs. 173 ($25) for a full cama seat (180-degree reclining seats)
Times
Direct buses between Oruro and Sucre only run at night – usually it is a bus coming from / going to La Paz and stopping in Oruro to pick up passengers. Night buses leave from Sucre between 5.30pm and 7pm while buses from Oruro leave at 10.30pm
The full cama option is available on the El Dorado La Paz to Sucre bus and on a similar service operated by Trans Copacabana, both of which pick up passengers in Oruro. Other operators only offer semi-cama seats.
There are also plenty of day buses traveling between Potosi from both Sucre and Oruro, allowing you to tour the city before making the onward journey.
From Sucre, the trip to Potosi takes around 4 hours and buses leave every hour or so from 7am to around 7pm (For more info please read this post for detailed advice on traveling between Potosi and Sucre). Once in Potosi there are two morning departures to Oruro at 7 am and 1.30pm and an evening departure at about 11pm.
From Oruro, the trip to Potosi takes around 6 hours with several buses leaving daily between 7am and 11pm.
There is also the option to travel between Oruro and Sucre via Cochabamba.
Where to Purchase Tickets
Tickets can be purchased inside both Sucre and Oruro's bus terminal on the day of departure. Oruro's bus station can be located at Calle Vacovic y Villarroel and Sucre's at Calle Ostria Gutierrez. When leaving from Sucre's bus station there is a 2 Bs "uso de terminal" departure tax which is not included in the ticket price.
When possible, try to book your bus tickets in advance from Tickets Bolivia as seats do sell out especially on public holidays. If buying your ticket on the day, make sure to arrive at the bus terminal early to ensure you get a seat.
[et_pb_dmb_tickets_bolivia admin_label="Tickets Bolivia" _builder_version="3.0.51″ from_default="11″ to_default="10″ /]
Taxi between Oruro and Sucre
An alternative to buses is to take a "collective cab". These are taxis which depart from the bus station once enough people have been found to fill them.
A collective taxi from Oruro to Potosi should cost around Bs. 120-150 ($17-$22) per person and from Sucre to Potosi it's around Bs. 45 ($6.50) per person. Taxis direct between Oruro to Sucre should cost around Bs. 150-200 ($22-$30) per person, but note that you may be in for a long wait on fellow passengers. If you have, or can pre-arrange, a group of 4, you should be able to get away without delay.
Driving between Sucre and Oruro
The driving distance between Sucre and Santa Cruz is about 485 Km on paved road, and will take upwards of 8.5 hrs.
Accommodation in Sucre
If you're heading to Sucre, be sure to book your accommodation in Sucre as soon as possible to avoid missing out.
Conclusion
The journey between Oruro and Sucre is cheap and painless, and can easily be done in one go. For those who want to do a bit more sight-seeing along the way, a great option is to get off at Potosi to explore the city's infamous mine and fascinating museums.
If you have any advice you'd like to share about travelling between Sucre and Oruro please leave a comment below: