Traveling Between Potosi and Sucre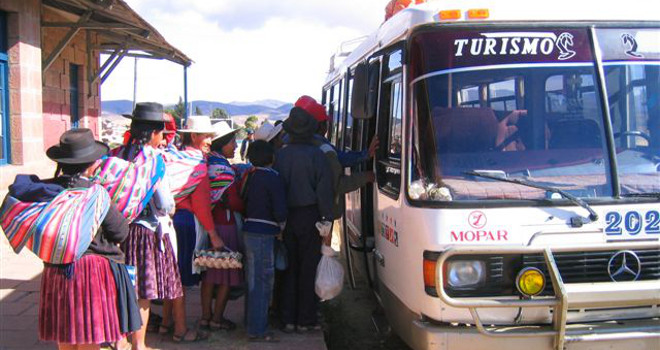 The mining town of Potosi sits at the base of Cerro Rico, a mountain "made of silver" which famously enriched the Spanish empire. Despite the flow of silver out of the town, the population remain poor and many work in very tough dangerous conditions in the mines, tracking down the remainder of the silver. It is possible to tour the mines.
By Bus
The road between Potosi and Sucre is paved and pleasant. Buses leave roughly hourly from 6am, and take around 3-4hrs. In Sucre, they can be caught from the bus station which is a short taxi ride (costing 4 bolivianos per person) from the center. If leaving from Potosi you can catch the bus from the new terminal (Nueva Terminal) which is located about a 20 minute taxi ride form the town center (around 5 bolivianos per person).
The bus costs around 21Bs ($3), with more expensive semi-cama (half-bed) and full cama (full-bed) options available (as the buses are generally going to or from La Paz – you're unlikely to need the cama options if just going from Potosi to Sucre or vice versa). Two of the best operators on the route are Trans Emperador and El Dorado and there is a 2 Bs "uso de terminal" departure tax to be paid at the bus station.
While tickets can be purchased at each of the bus stations on the day, when possible, try to book your bus tickets in advance from Tickets Bolivia as seats do sell out due to the popularity of the route:
Sucre Life Quick Tip:
As voted the best way to travel around Bolivia and Peru, we highly recommend choosing Bolivia Hop as your means of transport. Their safe, flexible and trustworthy service have proven to be the best way of getting the most out of your time in South America!
By Train
A train service known as the buscarril or "Ferrobus" (as it is basically a bus with train wheels and tracks) runs between Potosi and Sucre. It is slower than a regular bus, taking around 8hrs, but offers spectacular views of the surrounding countryside (some of which can be seen from the bus, some not). The service runs leaves from Sucre to Potosi on Mondays at 8am. It returns from Potosi to Sucre on Tuesdays, again leaving at 8am. Tickets cost around 25 bolivianos. The train departs and arrives Sucre from the El Tejar station which is a short taxi ride from the center (again around 4 bolivianos per person). In Potosi, the Ferrobus operates out of Potosi's Estación Central located on the corner of Sevilla and Universitaria avenues.
By Taxi
As taxis in Bolivia are cheap, a third option is to have a taxi take you all the way from Sucre to Potosi, or vice versa. The trip will take around 2-3 hours. Shared taxis (called trufis) leave from the bus station and cost about 45bs ($6.50) per person. A taxi off the street will cost more, at about 60bs per person ($8.68). If you're staying in a hostel or hotel, you may also be able to get the owner to organize one for you. We did this and it cost 50bs per person ($7.25).
Accommodation in Sucre
If you haven't already, be sure to book your accommodation in Sucre as well as Potosi to avoid missing out.
If you have any advice you'd like to share about travelling between Sucre and Potosi please leave a comment below: