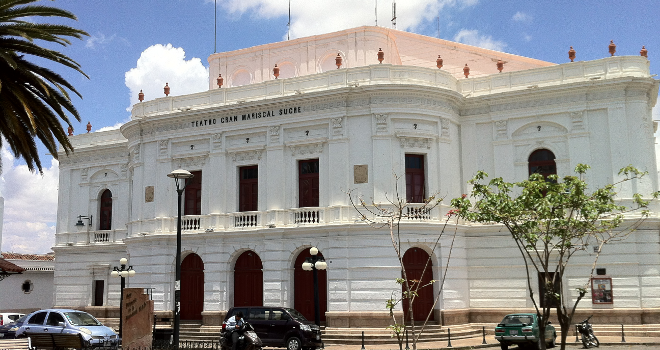 Teatro Gran Mariscal, stands out as one of the few splashes of color in an otherwise pristine white city. The pink topped building sits facing Plaza Libertad, with its back to nearby Parque Bolivar.
Sucre's main theatre, Teatro Gran Mariscal de Ayacucho, is named after Bolivia's first president and the city's namesake Antonio José de Sucre, who lead as Grand Marshal in the battle of Ayacucho. The opulent building was constructed according to plans originally drawn up for a competition to design Milan's Teatro alla Scala opera house. The building in Sucre was built for the prince and princess of La Glorieta, with papal consent. A second phase of construction on the theatre was started in the 1950s.
Around this time rumors began to circulate of ghost sightings, with reports of strange lights and sounds thought to have been made by the recently disturbed souls of workers killed during the original construction. Such reports tailed off with time and the auditorium is no longer thought to be haunted.
Today, the theater holds a regular stream of events including ballets, folkloric dancing, music concerts and plays. Many of these events are free. Details of events are advertised on posters outside the venue and around the town.