Located approximately 65 km south-east of Sucre is the beautiful and historic town of Tarabuco, famous for its Sunday markets and unique Yampara culture.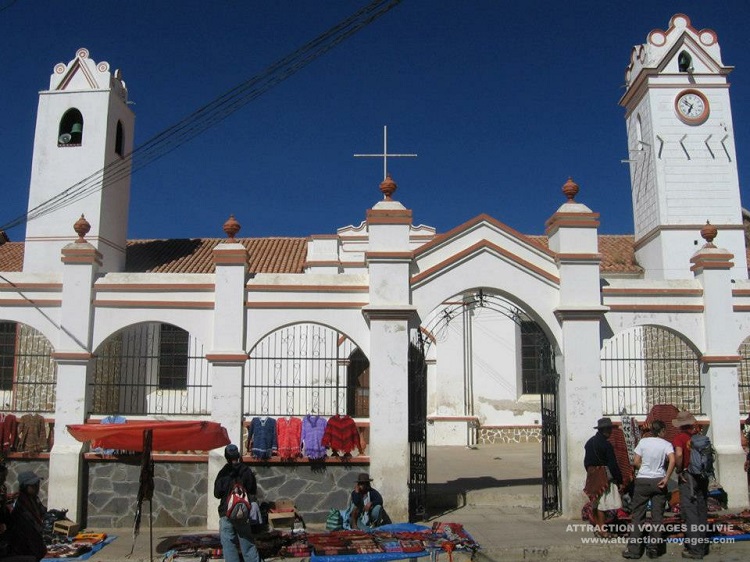 Arriving in Tarabuco you will notice a quaint, palm tree lined square surrounded by a handful of restaurants perfect for enjoying a long lunch. Also on the manicured square is the Iglesia de San Pedro, the Arte Indigenous museum and a 'realistic' statue honouring the battle of Battle of Jumbate where the Tarabuceños defeated the Spanish army. For those who like browsing for souvenirs or nic-nacs, there are a handful of stalls selling everything from silver jewellery to local clothes.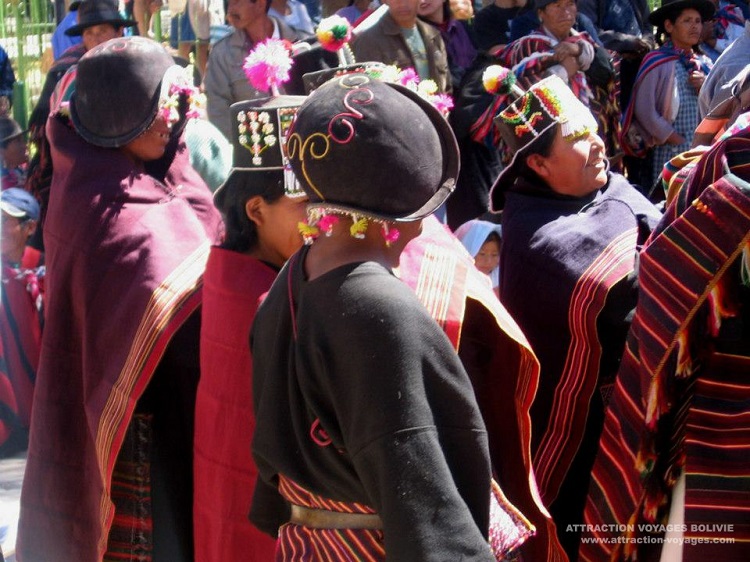 The majority of locals in Tarabuco still wear traditional dress, not only to preserve their identity, but to advertise their location of origin to others. One things you'll notice while walking about town is that Tarabuceños love their hats, each of which have their own special style and significance.
As well as being a great place to shop for high-quality artesian products, Tarabuco gives travelers the opportunity to immerse themselves in the ancient indigenous culture of the Yamapara; a community who have worked hard to preserve the unique traditions and customs of their past.
Top Things To Do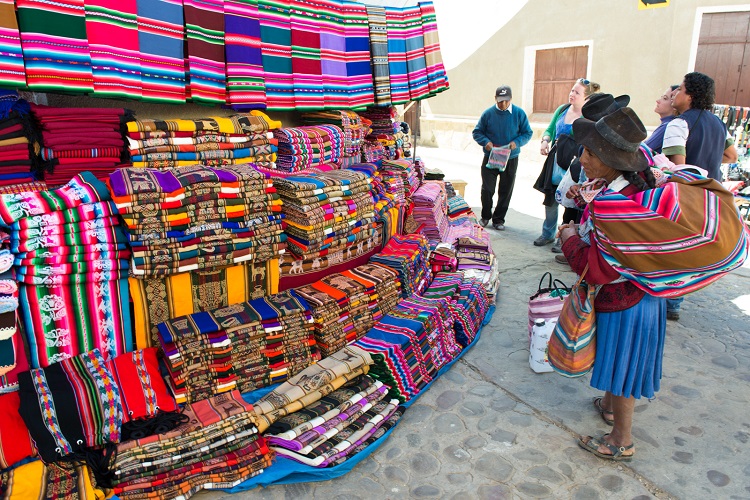 1. Tarabuco Market
Tarabuco is the place to be on a Sunday to experience one of the most famous markets in all of Bolivia.
Renowned for its locally crafted tapestries, bags, hats, jumpers and shawls, tourists from all over the world flock to the weekly market to stock up on stunning fabrics, souvenirs and gifts. Whilst a tad touristy (products tend to be a little more expensive than you can buy elsewhere), the market is a great opportunity to witness the Yampara people in their beautiful traditional dress and to learn a little about the local indigenous community.
2. Arte Indigenous
Located next to the main square, Arte Indigenous is a textile museum showcasing some of the region's most beautiful handcrafted art and tejidos ( weavings) . The stunning pieces, including ponchos, wall hangings, leather purses and blankets, are of excellent quality, providing creative insight into the traditional cultures and local ethnic groups of the region.
3. Pujllay Festival
Travelers lucky enough to be in Tarabuco on the third Sunday of March will get to experience the Pujllay festival, a fun-filled event featuring traditional dance, music and parades.
Where To Stay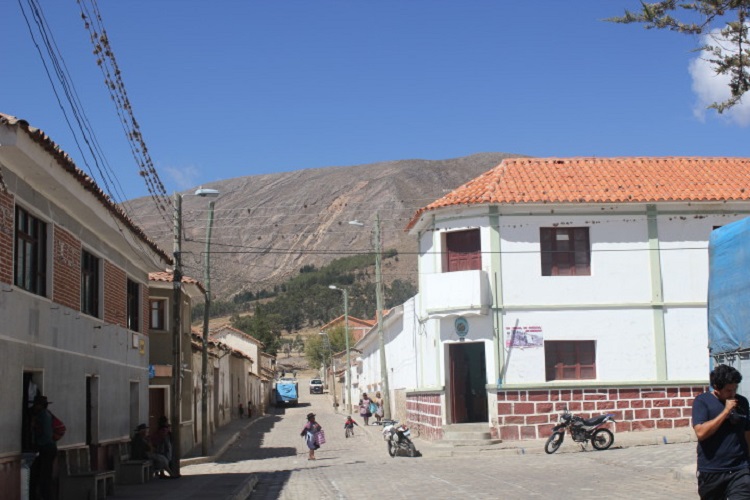 Whilst Tarabuco does have basic accommodation, most travelers choose to stay in Sucre. If you do wish to spend the night, the following hostel is recommended. Alternatively, you visit Tarabuco's tourist office, a block west of the plaza, to try and arrange a homestay with local family
HI Cej-Tarabuco
Centro Ecológico Juvenil, Tarabuco, Bolivia
Housed in a remodelled colonial building right in the centre of town, Centro Ecológico Juvenil in not only a place to rest your head, but to learn about the local culture and taste local dishes lovingly prepared by the hosts. The hostel features traditional characteristics like a grand, light-flooded patio, a well and a rustic clay oven, as well as modern amenities like 24/7 hot water and comfortable beds.
Prices range from $4 US for a dorm bed to $20 US for a private double room with ensuite
Reservations: hostelling_international_bolivia@yahoo.com
Sucre Life Quick Tip:
As voted the best way to travel around Bolivia and Peru, we highly recommend choosing Bolivia Hop as your means of transport. Their safe, flexible and trustworthy service have proven to be the best way of getting the most out of your time in South America!
Where To Eat
Pukari Wasi
Olañeta #31 (one block from the southeast corner of the town plaza)
A popular place to eat, especially on market days, Pukari Wasi is a family-run restaurant serving hearty food in a sunny outdoor setting. Set lunches are very affordable and include a soup, a meat dish and seasonal fruit.
Maliki
Just off the plaza
One of the best places to eat in town, serving predominately meat and chicken dishes in a lovely courtyard setting.
Samay Wasi
Calle Mendieta (corner of Avaroa)
A lovely cafe specialising in organic food, vegetarian dishes and tasty local fare. On cold days warm up with hot drinks or tasty soup while sitting in the colourful garden surrounded by flowers. Samay Wasi also features locals performing regional dances and wearing traditional costumes as well as an onsite art gallery well worth checking out.
How To Get There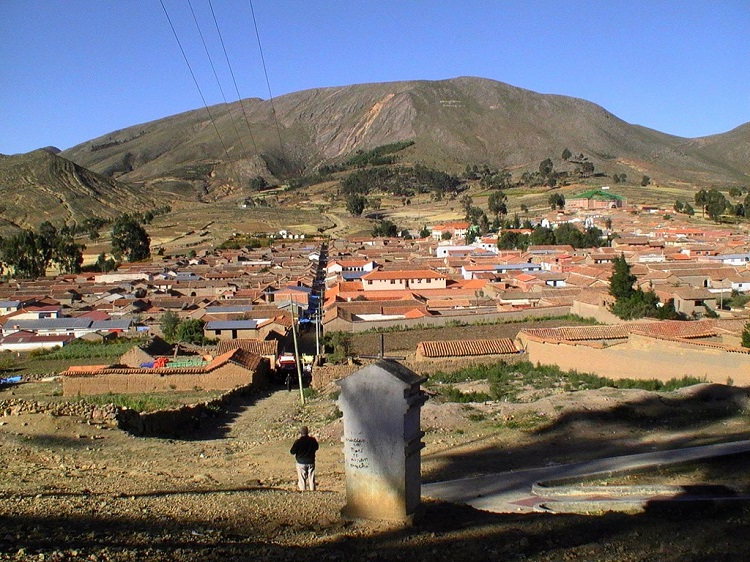 Tarabuco is located 2 hours by bus from Sucre. Public buses leave regularly from the 'Parada de Tarabuco' which can be found at the intersection of Avenida de las Americas and Avenida German Mendoze. The trip should cost around 10 Bs ($1.45 US).
If traveling by public transport on market make sure to leave early in the morning as vendors start closing up by mid-afternoon. Alternatively, you can make your way to Tarabuco with an organised tour, costing around Bs 35 ($5 US) for the day. Recommended agencies in Sucre include Condor Trekkers, Joy Ride Turismo and Candelaria Tours. Hostels and hotels can usually arrange trips also.
Have you visited Tarabuco? Share your experience in the comments below: