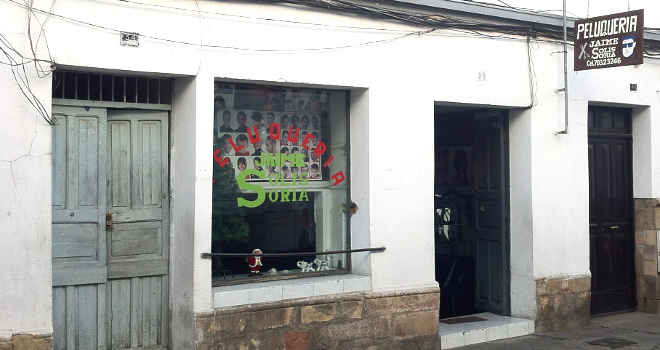 It doesn't look like much from the outside, and it doesn't look like much from the inside. But Peluqueria Jaime Solis Soria do a great men's haircut.
It's not the kind of place you're likely to notice as you walk along the street. I only found it because of a recommendation from the guys in Metro cafe, who insisted emphatically that it was very good. Once I found it, I realized I had walked past it many times. After all, it is only half a block from Plaza 25 de Mayo, on Ayacucho.
Going in, I had my doubts. The owner got off the couch with a fair amount of effort and motioning me towards a chair. He moved with a belabored walk which could have have added a lot of time to the haircut, were it not compensated for by his precise, efficient work. With clippers which clunked as if powered by a petrol engine he swiftly shaved my head down to a flawless finish, skillfully blending from short at the back to longer on top (in a way I always ask for, but rarely get). When that was done he brought out a clean razor blade and neatly finished it off.
The haircut cost 35 well-spent bolivianos, and was definitely one of those don't judge a book experiences.