Painter and sculptor Domingo Parada Farjat was born in Sucre in 1941. He is regarded as one of the most important figures and pioneers of Bolivian contemporary art.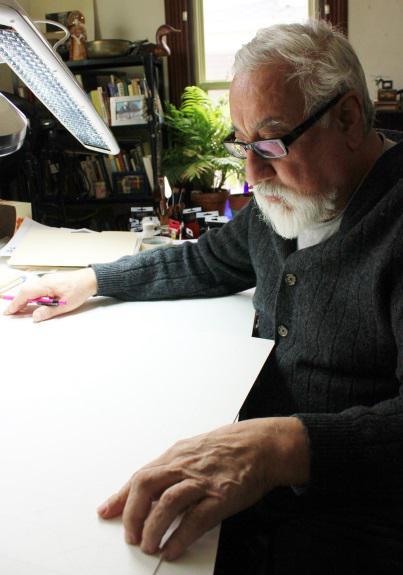 Domingo studied at the Plásticas Zacarias Benavides School of Arts, part of Sucre's San Francisco Xavier University. There, in 1959, he received an Honorable Mention in a contest to design posters commemorating the 350th anniversary of the foundation of the Archdiocese of La Plata. In 1963, he won first prize in a painting competition sponsored by San Francisco Xavier's School of Medicine.
After graduating, he moved to Rio de Janeiro to study at the Museum of Modern Art, mentored by Brazilian artist Ivan Serpa. While there, he placed first in a competition run by the Gauguin Painters Group of Ceara.
He then moved to the USA in 1966, where he continued to receive recognition for his work. In 1969, he won the Davina Wilson Award at the 15th Annual Exhibition of the National Society of Painters in Casein, New York, and also received an honorable mention in the pictorial exhibition "Art and Soul", held in Chicago. A year later he received the Fabian Zacone Award, at the 29th Annual Exhibition of the Society of Painters and Sculptors of New Jersey. In 1971 he won at the 17th M.J. Kaplan Annual Exhibition of the Society of Painters, again in Casein.
More recently, in 2012, Domingo won the Visual Arts Society Award in the 33rd Mini-works on Paper Exhibition at Jacksonville State University. In 2013 he came third in the Colorful Compositions Exhibit. Most recently, in 2014, he won first place in the 35th Mini-works on Paper.
You can see one of Domingo Parada's paintings on display in Sucre's Museum of Contemporary Art (part of Museo Charcas). The anthropological museum section of Museo Charcas displays a number of mummified human remains, two of which were donated by Domingo.
A number of Domingo's works are on display at the CT Art Gallery in Tarragona, Spain until May 27th, and at MeetiNG, Miami from the 20th March 2015.
Domingo Parada's Paintings
Domingo has kindly provided us with the following images of some of his paintings: