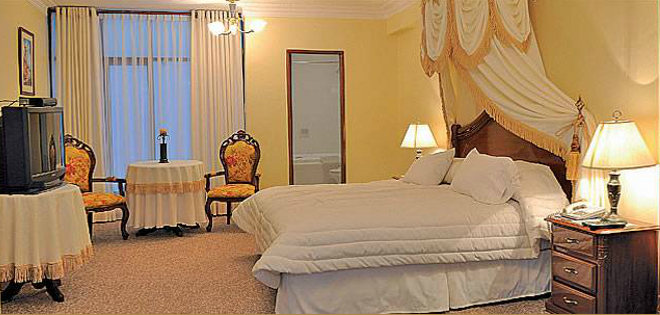 Located just 1/2 a block from the Sucre's Plaza 25 de Mayo, Hotel Independencia is arguably Sucre's most central hotel. It can be found on Calvo street, between Bolivar and España, a mere stone's throw from many of Sucre's most iconic buildings.
The colonial casona, home to Hotel Independencia for the past 13 years, was originally owned by Pedro Anzures, founder of the city of Sucre (then called La Plata). It is also in this building that some of the early plans of Bolivian independence were laid, hence the name Independencia. The historic building's three stories are built around two column-lined courtyards. The relaxed front courtyard features statues and a central fountain. The more formal rear courtyard showcases a range of plants and topiary. Inside, the building is furnished in a classic colonial style.
The hotel has wifi available throughout, including in the rooms. It can be patchy at times, but there are PCs in reception with fast connections as a backup.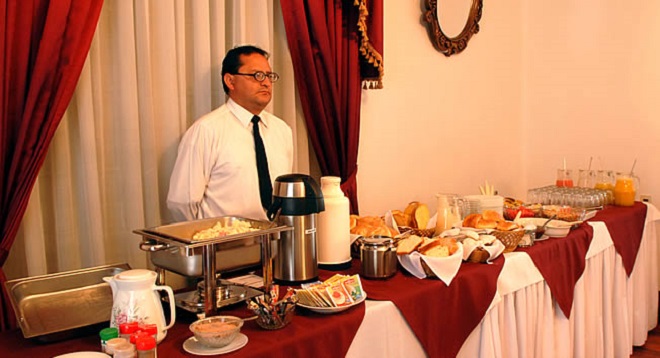 The daily breakfast (continental with fresh fruits, juices and pastries, plus the option of eggs) is served in a dining hall adorned with chandeliers.
Reception has security deposit boxes for safeguarding your valuables while you're out. Reception are also able to book a range of tours, though better prices may be found by approaching the tour companies directly, of which there are several round the plaza.
The hotel can also accommodate events in its 200 person auditorium, and its Libertad reception room which features a restored French renaissance-era mural.
If you're looking for a hotel in the heart of Sucre and steeped in its history, look no further than Hotel Independencia.
Sucre Life Quick Tip:
As voted the best way to travel around Bolivia and Peru, we highly recommend choosing Bolivia Hop as your means of transport. Their safe, flexible and trustworthy service have proven to be the best way of getting the most out of your time in South America!
Hotel Indepencia Rooms and Rates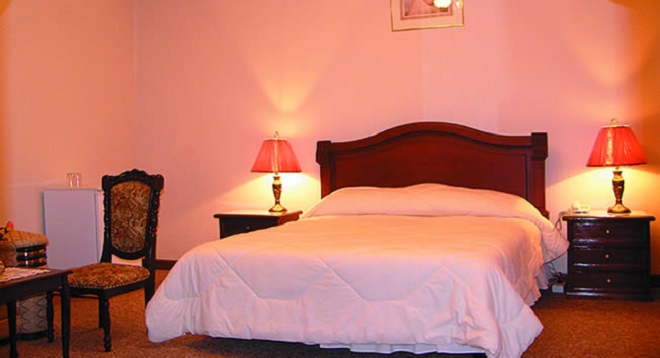 The hotel has 33 rooms and 4 suites. Rooms adjacent to the kitchen or backing onto the courtyard are prone to noise at times. Rooms on the top floor are generally quieter, but can become hot in summer. Some rooms are more spacious than others, or may have additional furnishings. The rooms are generally kept clean by attentive staff. The showers have hot water and good water pressure. Rooms have cable TV with English channels available. A double room at the Hotel Independencia costs around US$90 per night and a triple room around US $107 per night.
Have you stayed at Hotel Independencia? Tell us what you think of it…