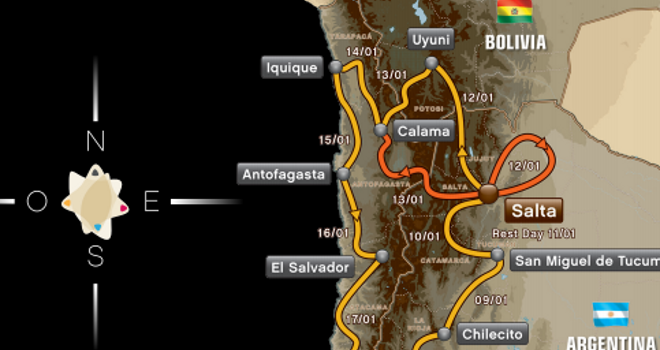 In 2014, for the first time, the Dakar Rally will include a Bolivian stage.
The rally will enter Bolivia from Salta, Argentina on 12th January, on the way to Uyuni and the salt flats. The rally will then head into Chile on the 13th January. This first venture into Bolivia will only be made by bikes and quadbikes, but potentially paves the way for the full rally to visit Bolivia in future years.
While the Rally isn't coming all the way to Sucre, Dakar fever is already becoming evident: everyone from our dentist to our Spanish teacher is talking about it. What's more, street vendors are now selling Dakar rally t-shirts in advance of the event. Those in Sucre who aren't able to make the trip to Uyuni will still be able to watch the rally from a number of Sucre's bars.
Amid threats to blockade the rally's passage through Bolivia, a 7000-strong police presence is being deployed to protect the route. 863,000 liters of diesel and petrol are also being supplied to the area to support the rally and the surround towns.