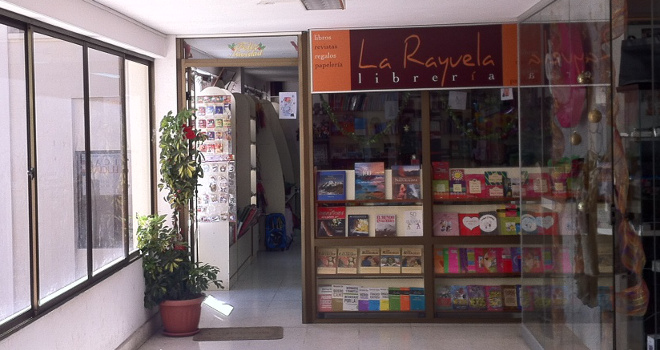 Looking for a good read? It is surprisingly tricky to find books and book stores in Sucre, but our guide is here to help you out.
Depending on what you are after, there are a number of options.
Book Stores in Sucre
For many people, the first choice will be to look for a proper book store. Such a thing does exist in Sucre, but you won't pass it in the street. In fact the only modern book store that we've been able to find here is tucked away beside the SAS supermarket.
Sucre's La Rayuela is a modestly-sized book store offering a good selection of modern books, but sadly no English titles. La Rayuela can be found in the SAS supermarket complex, located on Nicolas Ortiz, 2 1/2 blocks from Plaza 25 de Mayo. Enter the supermarket itself through the ground floor glass doors, immediately turn to your left and walk past the checkouts all the way to the staircase at the other end of the building. You'll find La Rayuela book store to your left, underneath the stairs.
In a city with as many churches as Sucre, it should be no surprise that there are also several places selling religious books, for example on Bustillos between Dalence and Colon, and on San Alberto between Bolivar and Avaroa.
Book Fairs in Sucre
These aren't well advertised, but if you're lucky you'll stumble upon one of the book fairs which occasionally pop up in Sucre. They usually appear in one of the many courtyards or exhibition areas located within a block or so of Plaza 25 de Mayo. They typically offer a wide selection of new books (mainly Spanish, but with some English titles). Look for signs posted on the street.
Market Stores Selling Books
A number of the stores in and around the Mercado Central, e.g. on Calle Junin, sell books along with the rest of their varied offerings. The selection is not great, usually old computer manuals or textbooks aimed at the large university population, and almost entirely in Spanish. But it may still be worth a wander through the area to see if anything catches your eye.
Book Exchanges in Sucre
Many of the hostels, cafes and bars aimed at travelers (for instance Joyride, KulturCafe Berlin and Flavour) offer book exchanges, often with the option to buy. You'll find books in a variety of languages, such as English, Spanish, French, German and Dutch. While the selection can be limited, the books are ones left by travelers so if you're a traveler yourself there is a good chance you'll find something which appeals to you.
Amazon in Bolivia
One last option: Amazon
delivers to Bolivia. Standard delivery takes 16 to 26 days, while priority shipping takes just 4-7 days.