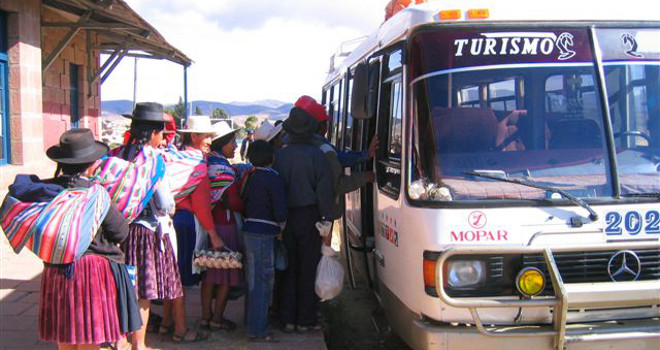 The mining town of Potosi sits at the base of Cerro Rico, a mountain "made of silver" which famously enriched the Spanish empire. Despite the flow of silver out of the town, the population remain poor and many work in very tough dangerous conditions in the mines, tracking down the remainder of the silver. It is possible to tour the mines. You can learn more about Potosi and its mines by watching the Devil's Miner, a film about a young Potosi mine-worker, which is regularly shown in bars throughout Sucre.
Click here to download your Sucre City Guide 2017 Edition
By Bus
The road between Potosi and Sucre is paved and pleasant. Buses leave roughly hourly from 6am, and take around 3-4hrs. In Sucre, they can be caught from the bus station which is a short taxi ride (costing 4 bolivianos per person) from the center. If leaving from Potosi you can catch the bus from the new terminal (Nueva Terminal) which is located about a 20 minute taxi ride form the town center (around 5 bolivianos per person).
The bus costs around 21Bs ($3), with more expensive semi-cama (half-bed) and full cama (full-bed) options available (as the buses are generally going to or from La Paz – you're unlikely to need the cama options if just going from Potosi to Sucre or vice versa). Two of the best operators on the route are Trans Emperador and El Dorado and there is a 2 Bs "uso de terminal" departure tax to be paid at the bus station.
While tickets can be purchased at each of the bus stations on the day, when possible, try to book your bus tickets in advance from Tickets Bolivia as seats do sell out due to the popularity of the route: