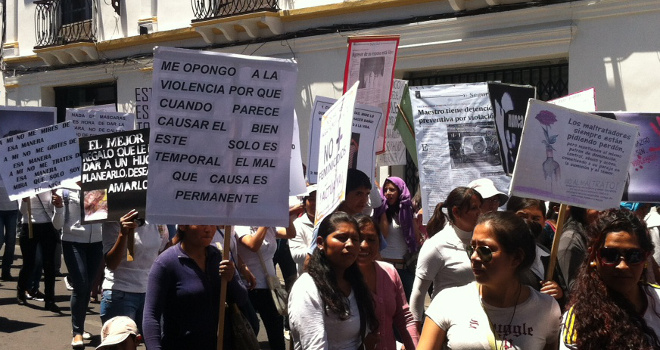 This week saw hundreds of youths march with banners towards Plaza 25 de Mayo, in protest against violence against women in Sucre. The good-natured protesters dressed up, chanted and handed out candy to raise awareness of the cause. So just what is the situation?
The Panamerican Health Organization reported in January this year that Bolivia had the worst record of violence against women out of the 12 Latin American countries studied. Of the women interviewed for the study 53% reported having been the victim of abuse in their lives, with 25% having suffered abuse in the previous 12 months.
Furthermore, while 450,000 denunciation of violence against women in Bolivia were recorded between 2007 and 2012, only 27,000 cases were heard from which only 96 sentences resulted.
The situation came to a head in January with the leaked video of the rape of an employee in the Sucre offices of the Chuquisaca Legislative Assembly at a Christmas function.
To address this situation, a bill was passed in March which introduced strict new legislation aimed at ensuring that women in Bolivia are able to live free from abuse. The law identified 15 specific types of violence against women and detailed punishments for each. Some notable provisions of the bill include:
Sentences increased from 4-10 years to 20-30 years.
Spousal rape recognized as a crime.
Guaranteed media space for public notifications pertaining to violence against women
Provisions preventing economic and media-based attacks against women.
Provisions for training and educational programs.
There is clearly a recognition of the problem and support for a solution at both the public and political level. Whether the measures being put into place will have the desired affect remains to be seen.