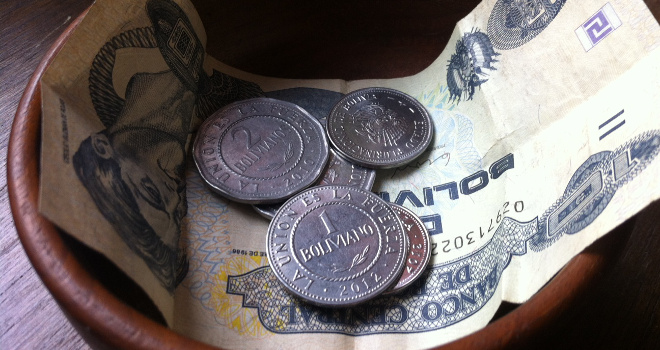 Tipping in Sucre, Bolivia, is not something you'll ever feel pressured to do. However, it is an easy way to make a small difference to the lives of service staff who are often working very low wages by Western standards. Here's our quick guide to tipping in Sucre.
Tipping in Restaurants
Service charges are rarely added to bills in Sucre's restaurants. While tips are not usually expected and there is no customary tipping amount, the wages of the restaurant staff can be low and tips are definitely appreciated. If you are happy with the service, a tip of around 10-15% is appropriate. Small change is often in short supply in Sucre, particularly smaller establishments, so leaving any coins you are given in your change will also be appreciated.
Tipping in Bars
As with tipping in restaurants, service charges are not normally added. A tip of 10-15%, or even just leaving a bit of change, will help top up the low wages of the staff and show your satisfaction with the service.
Tipping in Taxis
Taxi drivers are not usually tipped. However, if you are happy with your driver or he has gone to extra effort for you, for instance helping with your bag, you may want to show your appreciation with a small tip. The current price for taxis within the city, 4 bolivianos per person, makes it convenient to tip the taxi driver by rounding up to 5 bolivianos. The smiles we get from most taxi drivers on giving such a tip suggests that though small, it is unexpected and much appreciated. If you hire a taxi driver for a full day, or for long trips out of the city, 10% would be a good amount to tip.
Tipping in Hotels
As with most industries in Sucre (and Bolivia in general) hotel worker salaries are low, relative to western salaries. This means that tips, even ones that may seem small to you, will go a long way. Tipping maids and porters 5-8 bolivianos (around US$1), per favor (bags carried, room cleaned, etc) is a good way to give your thanks.
Tipping on Tours
If you've been given a good service on a tour, you may like to consider tipping your guide and/or driver. 5-8 Bs per hour, or around 50 Bs per day, would be a reasonable amount to tip per person.