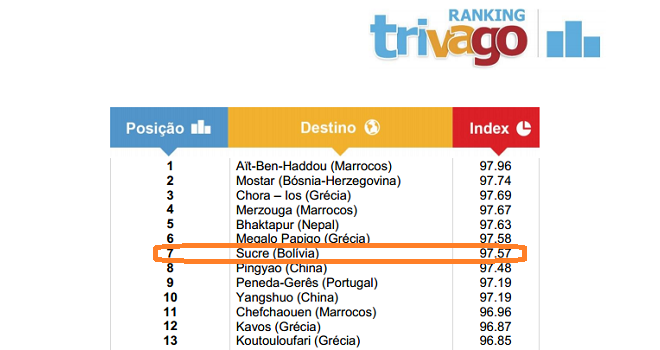 Travel comparison website trivago.com have published a list of their top 100 best value destinations worldwide for 2014.
The ranking puts Sucre as the 7th best value destination in the world.
Sucre was the highest rated South American destination, joined on the list only by Guarapari (Brasil, 33rd place), Medellín (Colombia, 51st place) and Maragogi (Brasil, 71st place).
The list also rates Sucre as the highest rated destination in the all of the Americas by a large margin (next closest is Bacalar in Mexico, in 29th place).
The ranking was produced based on an analysis of hotel prices and reviews on Trivago's website.
So if you're looking to make the most of your trip to South America, make sure Sucre is on your list too!