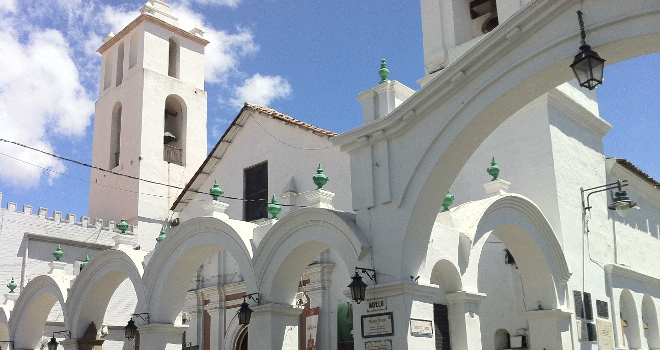 Sucre's San Francisco Basilica (or Basilica de San Francisco de Charcas) is an asymmetric classically-styled temple with baroque influences.
Sucre's Basilica was build on land donated in 1539 by Don Pedro Hinojosa and a neighbouring plot donated by Doña Constanza de Almendras shortly thereafter. The Basilica was constructed in 1577 by the Franciscan Order as a temple dedicated to St. Francis of Assisi. The central nave was completed in 1580. Upon completion of the nave, the remains of the city's founders were transfered to the church. It was opened in 1581, while the construction of the side chapels continued for several more years.
Sucre Life Quick Tip:
As voted the best way to travel around Bolivia and Peru, we highly recommend choosing Bolivia Hop as your means of transport. Their safe, flexible and trustworthy service have proven to be the best way of getting the most out of your time in South America!
The Bolivian independence movement began on 25 May 1809 with the ringing of the Basilica's bell. The bell was rung so hard that it broke. The "freedom bell" as it came to be known is now kept on display in the Basilica.
In 1825, Bolivia's first president Antonio José de Sucre took control of the Bascilica and it became the seat of the national army. Sucre also ordered the construction of the Arcos de la Plaza de San Francisco – a series of arches, the main one of which spans the adjacent street. In 1835 burials in the catacombs were cancelled (taking place at the General Cemetery, instead). In 1868 the temple was reopened to the catholic community. It was not until 1925 that the Franciscans were permitted to return to the Basilica, when the Ministry of Defence donated part of the convent to the order. The Basilica underwent restoration in 1946. The catacombs were reopened in 1996, revealing the remains of children of the original Spanish conquerors.