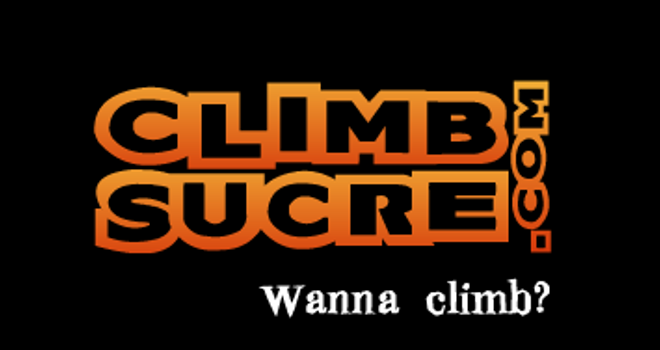 Sucre has something for everyone, and adventure travelers are no exception. The rugged landscape around the white city is perfect for getting in a spot of rock-climbing. One company offering climbing tours for both beginner and advanced climbers is ClimbSucre.com.
ClimbSucre.com is made up of the two-man climbing team, Steve Clark and Justin Marsden, from the UK and USA respectively. Between them they have over 14 years climbing experience. Firm believers in safety, they only use equipment from the US or Europe which meets international standards. They also limit tour group sizes to a maximum of 6 climbers per guide.
Steve and Justin offer several climbing tours:
Beginner and Intermediate Tour – The climbs take place on two adjacent walls of a crag located on the western side of Sica Sica (the crucifix-topped mountain overlooking Sucre). Each wall is 25m high and has 7 routes. The easier wall, the "slab", has a mix of cracks, jugs and crimpers (small, challenging holds), while the harder wall has an overhang on every route. The slab ranges in grade from 5.6-5.9 (US), while the overhang ranges from 5.7-5.11a.
Advanced Tour – This climb takes place on Garzilazo, a 25m sandstone crag in the valley below Sica Sica. Eight routes ranging in difficulty from 5.10a to 5.12b, offer tests in a wide range of techniques. Previous climbing experience is required for this tour.
Sucre Life Quick Tip:
As voted the best way to travel around Bolivia and Peru, we highly recommend choosing Bolivia Hop as your means of transport. Their safe, flexible and trustworthy service have proven to be the best way of getting the most out of your time in South America!
The tour prices per person vary with the number of people on the tour:
1 person = 300Bs,
2-3 people = 200Bs, or
4+ people = 150Bs.
The price includes a bi-lingual guide (English and Spanish), transport, and all the equipment you need to do the climb.
ClimbSucre.com also offer tuition for people looking to improve specific aspects of their climbing.
To book a tour with climbsucre.com either call 72853429 or email justin@climbsucre.com or steve@climbsucre.com