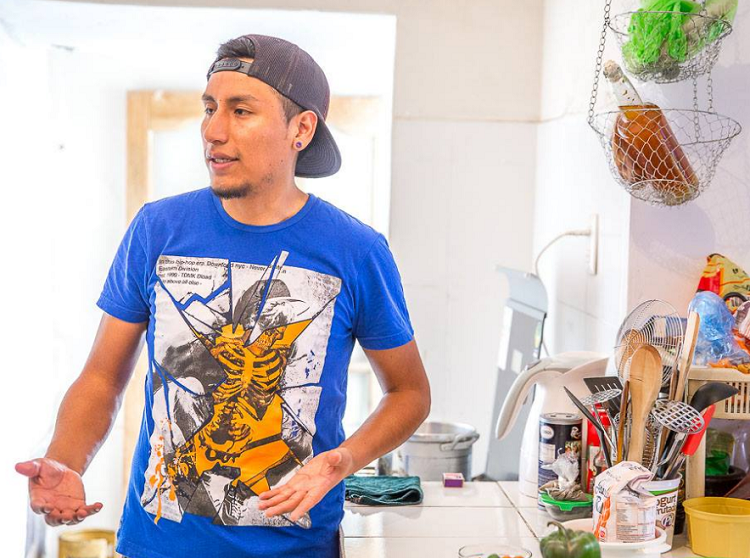 A welcome addition to Sucre's growing foodie scene is La Boca Del Sapo, a small business run by local resident Moises Condori Gallardo, where tourists can learn to cook traditional Bolivian dishes using recipes and techniques passed down through generations.
Taking place in Moises's warm and inviting home, budding chefs are treated to a clean and spacious kitchen equipped with all the necessities for whipping up a delicious, home-cooked meal. In keeping with his passion for cooking with fresh local produce, all ingredients used in the cooking classes are sourced from the local market as well as fruits and vegetables harvested from Moises's family farm on the outskirts of Sucre.
Using traditional techniques and recipes from his grandparents and great grandparents, Moises aims not only to give his students an authentic Bolivian cooking experience, but to provide them with the opportunity to learn more about the Bolivian culture and way of life. And for those learning Spanish, the cooking class is a great way to practice your speaking skills and learn some new words.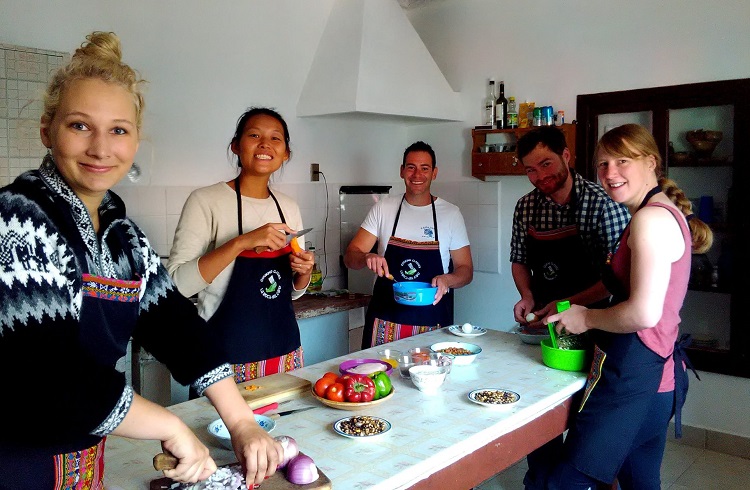 Each cooking class, lasting approximately 2 hours, involves making a traditional main dish (chosen in advance from a menu), a refreshing fruit juice or cocktail, and the traditional spicy Bolivian salsa "llajwa". Group sizes are kept small to give a hands on, personalized experience, and classes are designed to be interactive with students working as a team to prepare their chosen dish. Along with the main meal and drink, students are also provided with nibbles on arrival, water, dessert, a recipe and all leftovers are yours to take home.
Sucre Life Quick Tip:
As voted the best way to travel around Bolivia and Peru, we highly recommend choosing Bolivia Hop as your means of transport. Their safe, flexible and trustworthy service have proven to be the best way of getting the most out of your time in South America!
Open from 9am to 8pm, Moises and his team are flexible and can arrange class times to suit you. For those with food allergies or sensitivities, Moises can also adapt certain recipes with advanced notice to accommodate dietary requirements.
In addition to the cooking classes, La Boca Del Sapo also offer tours of the Pampas, a region located one hour from Sucre on the way to Potosí. It is a beautiful place, dotted with small adobe houses where the local farmers continue to live a traditional lifestyle. Tourists have a unique opportunity to see an old adobe house (where Moises was born), the school, the cemetery, the fertile land with beautiful views that reach as far as the sierra, and meet a family of local farmers.
During the summer months, this agricultural land in the Pampas region becomes lush, green and fertile. Tourists can sample freshly picked fruits and vegetables and prepare a traditional Pampaku meal using the ancient method of burning embers buried in the ground to form an underground furnace.
And for those who would would rather just eat rather than cook, La Boca Del Sapo also offer walking food tours of Sucre. This fun food tour allows first-time visitors to get to know the beautiful white city while sampling local dishes in places little known to tourists.