Sucre Spanish School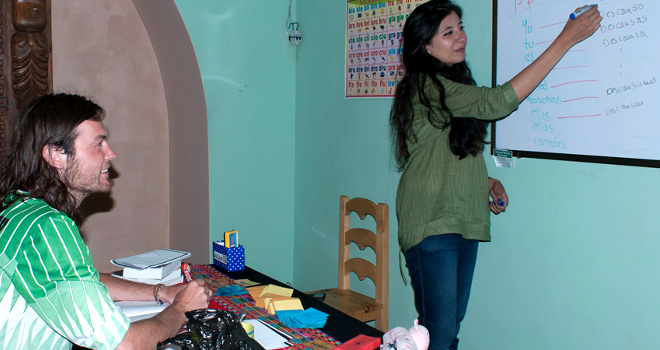 Sucre Spanish School, located 3 1/2 blocks from Plaza 25 de Mayo, offers one-on-one and group Spanish lessons.
A fully-immersive learning experience is on offer at Sucre Spanish School, with classes taught by native Spanish speakers being complemented with a range of activities in Spanish such as sports, salsa classes, cooking classes and movies. The school can also assist with volunteering opportunities in the community.
Sucre Spanish School Classes
Classes can be taken individually, or in small groups of up to 4 people. Students normally study for 4 hours per day for 5 or 6 days per week. Classes are held on Monday to Friday (and Saturday if desired), either in the mornings (8:30am – 12:30pm) or afternoons (2:30pm – 6:30pm). It is possible to take more intensive classes with 6 hours of lessons per day.
Lessons can be tailored to an individual's goals. Among the targeted courses on offer are courses for travelers, Spanish-speaking immigrants, university and college students, professionals, and children.
Private classes cost $6.50 per hour, and group classes $4.50. Prices for specialized courses are available on request.
Sucre Life Quick Tip:
As voted the best way to travel around Bolivia and Peru, we highly recommend choosing Bolivia Hop as your means of transport. Their safe, flexible and trustworthy service have proven to be the best way of getting the most out of your time in South America!
Sucre Spanish School Accommodation Options
The school can organize a homestay with a Bolivian family for the duration of your course. Homestays cost $13 per night.
Sucre Spanish School was established by the owners of nearby KulturBerlin hostal, which can provide dorm-style accommodation for around $8 per night or a private room for $25 per night.