La Escondida Hostal
La Escondida is a relaxed, modern hostel in the heart of Sucre's bustling market area.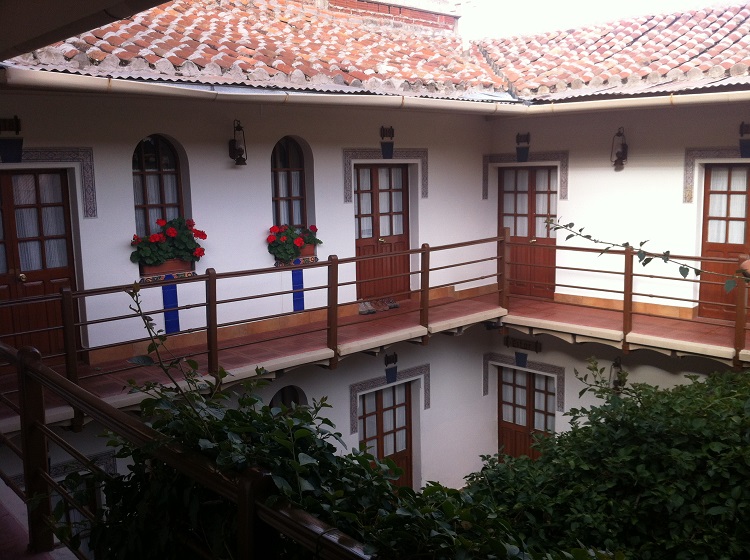 We spent a week in La Escondida while waiting for the completion of our next home in Sucre, the Romero's rental house in La Recoleta. Having already spent much of our time in the peaceful La Recoleta area, we were looking forward to getting to know another side of Sucre a bit better – the vibrant streets surrounding Mercado Central.
La Escondida Hostal Location
La Escondida was the perfect base for doing so. It has a great location, right across from the market, 1 block from the basilica, and just 2 1/2 blocks from the central plaza. It's also close to a range of amenities including restaurants such as La Taverne and Tentaciones, and Spanish schools such as Me Gusta. Immediately outside the hostel is a throng of activity on the ever-busy peatonal zone (translating as pedestrian zone in English, though it's actually a fairly busy single lane road).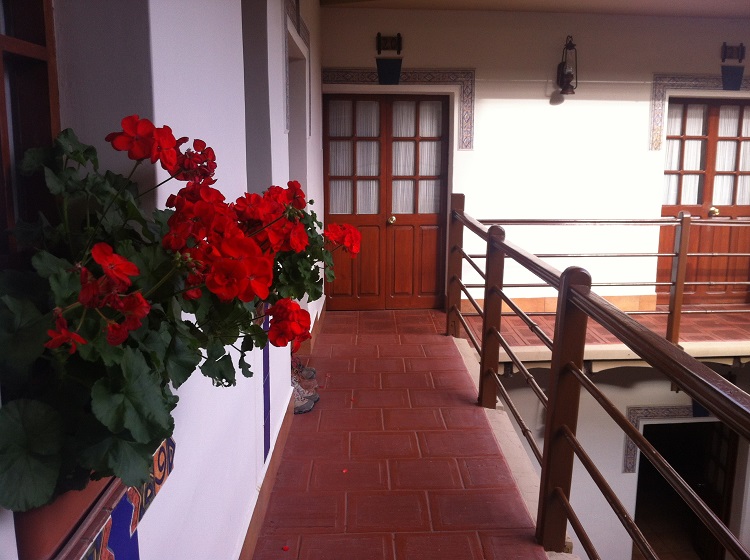 Stepping into La Escondida is like stepping into another world. In contrast to the hustle outside, Escondida is a tranquil haven hidden and insulated from the world outside by a quiet alley entrance set back from the peatonal.
La Escondida Hostal is located on Calle Junin across the road from the Mercado Central, between Ravelo and Hermando Siles.
Sucre Life Quick Tip:
As voted the best way to travel around Bolivia and Peru, we highly recommend choosing Bolivia Hop as your means of transport. Their safe, flexible and trustworthy service have proven to be the best way of getting the most out of your time in South America!
La Escondida Hostal and Amenities
La Escondida Hostal consists of two sections: a main hostel area and an annex.
The main hostel area is located at the very end of the alley, through the archway. The hostel consists of a bright central courtyard surrounded by rooms on two floors. The courtyard and overlooking balcony are clean, spacious, and decorated with brightly-colored flowers. The courtyard is generally quiet – La Escondida tends to attract couples and older travelers rather than the party crowd.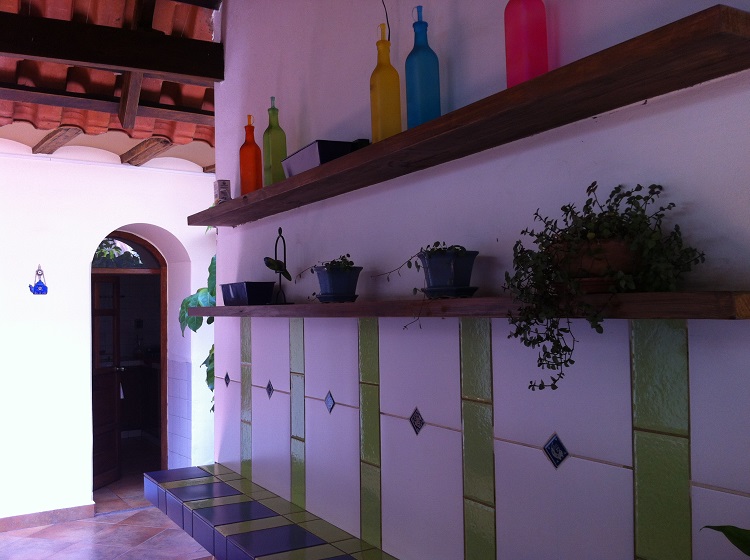 The new annex, located just before the arch, houses the reception and many of the facilities such as the kitchen.
La Escondida offer most facilities your are likely to need on your stay, including:
Breakfast – La Escondida's rates include the standard hostel-style buffet breakfast served in the pretty courtyard and adjoining dining area. A welcome addition to the breakfast menu is eggs cooked to your liking. We found that the staff serving them weren't always in the kitchen, but would periodically check in to see if anyone was waiting.
WiFi – Decent WiFi is available throughout the hostel and in the rooms. As I've seen with some other Internet connections in Sucre, the connection at Escondida seemed to die after a day or two of use and won't come back until the router was reset – so if this happens be sure to ask reception to turn it off and on again.
Kitchen – There is a spacious, well-fitted out kitchen for guests' use.
Laundry service
Book exchange
Airport / bus station pickup service – though note that taxis in Sucre are cheap and convenient.
Luggage storage
Safe-deposit boxes
Snacks and drinks – on sale at reception
Billiard table
The staff at La Escondida are very friendly and ready to help with anything else which you may need.
La Escondida Hostal Rooms and Rates
All of Escondida's rooms have a private bathroom with hot showers, cable TV. The rooms are neat and cleaned daily.
The rooms on the upper floor overlooking the courtyard get the most light, though the corner rooms have less window area and are correspondingly darker.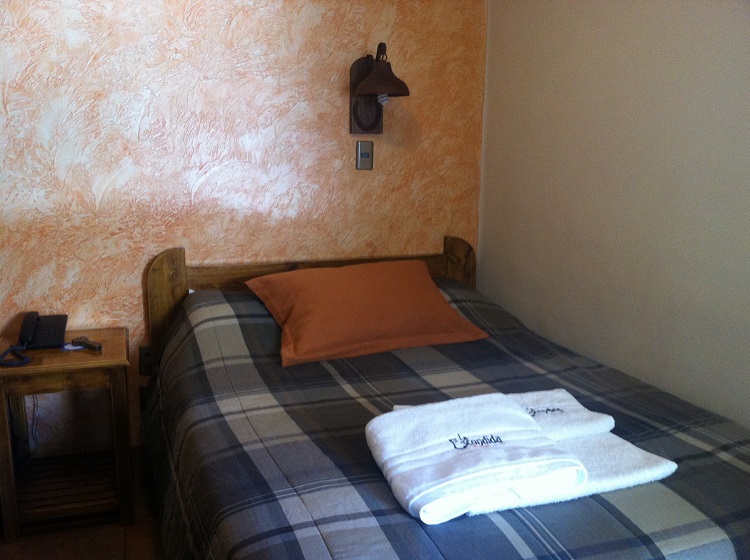 Escondida have double and twin rooms available for around US$45 per night, single rooms for $26 per night and triple rooms for around $55 per night. Special rates are available for groups and long-stays, by contacting the hostel directly.
La Escondida Hostal Conditions
Check-in time at Escondida is from 1pm onwards, and check-out is by 12pm.
Only cash payments are accepted. There is no cancellation fee 2 days or more prior to the booking date.