Inside Bolivia Travel Agency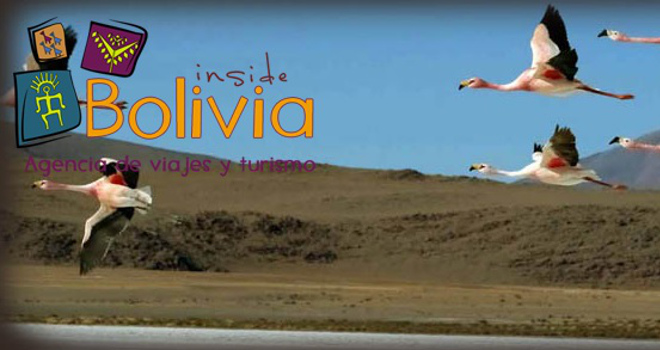 Inside Bolivia (formerly Inside Sucre), is a travel agent and tourism center located on Sucre's Calle Junin near the corner of Ayacucho.
Inside Bolivia offer a range of tours and activities around Sucre, including:
Inca Trail / Maragua Crater – A two hour hike beginning at the chapel of the Virgin of Chataquila and following the Inca Trail to the town of Maragua, taking in views of the crater and it's colorful landscape on the way.
Rock Paintings – A 5 hour round-trip hike to the mystical rock paintings of Incamachay and Pumamachay, created between 1000 and 2000 years ago. Along the way is a chance to see Sucre from a variety of viewpoints and learn about the towns and cultures in the area.
Dinosaur Footprints – Operating outside Sucre's rainy season, this tour follows the path of the Inca Trail / Maragua Crater trek, before continuing on to visit exposed dinosaur footprints up close. The trek is a 4 hour round trip.
Tour to Maragua: 2 days / 1 night – The tour begins with a hike along the Inca Trail to Maragua, where the night is spent in rustic cabin-style accommodation enjoying local food. The second day is a 5 hour hike in the area, taking in the dinosaur footprints and the other-worldly landscapes of the Maragua crater. Several price options are available (comfort, economy and super economy).
Tour to Maragua: 3 days / 2 nights – This tour takes in all of the above tours, letting you visit the Inca Trail, rock paintings, dinosaur footprints and Maragua, as well as visiting local homes and seeing the local women producing their woven textiles. Again a range of price options are available.
Community Involvement – Connect with a local family in the Molle Punku community 30 mins outside of Sucre. You will get to learn about and participate in their daily life and activities, including cooking, baking, weaving, farming and sheep grazing. You get to choose the number of days you'd like to stay with the family.
Climbing – Inside Bolivia offer rock climbing tours for beginner, intermediate and expert climbers. Beginners will climb a rock face on Sica Sica, while more advanced climbers can tackle more difficult climbs on Garcilazo and La Hoyada.
Mountain Biking – A variety of mountain biking tours around Sucre are on offer.
Horseback Riding – A range of horseback riding tours around Sucre are also on offer.
Sucre City Tour – Get to know Sucre and learn about its history, myths and legends. 3 and 6 hour tours are on offer.
Inside Bolivia have been expanding to offer tours around Bolivia, including:
Amboro
Chalalan
Guembe
Toro Toro
Samaipata – with pickups in Samaipata and Santa Cruz, the tour spends a full day exploring the UNESCO listed Samaipata Fort, a one-time Incan stronghold. You'll also get to visit the "Cara del Inca" mountain formation and take a dip in the "Cascadas del Cuevas" waterfalls. Transport, guide, admissions and lunch are all included.
Villa Tunari
Cochabamba
Ruta del Che
Santa Cruz
Oruro
Uyuni
Potosi
Bolivia – An 11 day tour taking in the best of the country. The tour begins in Santa Cruz, visiting Sucre, Potosi, Uyuni, and plenty in between, on the way to La Paz.
Inside Bolivia can also organize bus and air transportation throughout Bolivia, as well as national and international flights.
Place: Inside Bolivia
Address: Calle Junin and Ayacucho, Sucre, Bolivia
Phone: +591-4-6415003 or +591-70336832