San Felipe Neri, Sucre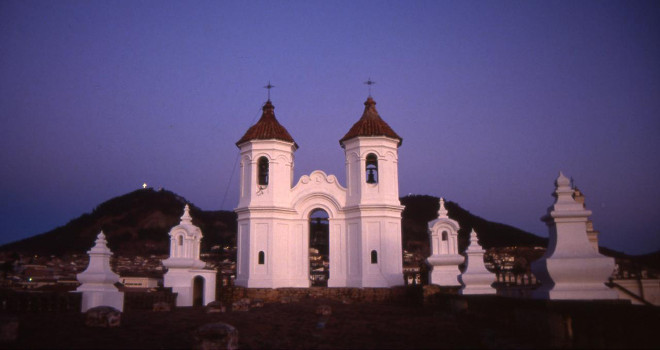 The Convent of San Felipe Neri is a neoclassical style church built between 1795 to 1799, by Friar Antonio de San José Alberto.
San Felipe Neri was built using stone from Mount Churuquella, and later covered with a layer of stucco. Originally a monastery, the convent now functions as an all-girls parochial school.
The entrance houses a painting of the last supper. inside, a flower-trimmed courtyard sits surrounded by two levels of white arched corridors. A large number of paintings from the 18th and 19th century adorn the inside of the monastery.
Sucre Life Quick Tip:
As voted the best way to travel around Bolivia and Peru, we highly recommend choosing Bolivia Hop as your means of transport. Their safe, flexible and trustworthy service have proven to be the best way of getting the most out of your time in South America!
The main draw-card of San Felipe Neri is the excellent panoramic views of the city from the brick-floored rooftop and bell tower. For those after the view, but not willing to pay the entry fee, good views can be had from the rooftop of La Cite hostel or from Mooy bar (above the SAS supermarket).
Crypts below the convent hold the remains of important figures such as the last President of the Real Audiencia de Charcas and the last Archbishop of Charcas.
San Felipe Neri is open to the public from 2.30pm-6pm daily, except for Sundays. Entry is via the school entrance next-door (#165 Ortiz, marked "Maria Auxiliadora"). You may need to knock or ring the bell to get access. Admission costs 10Bs. The door to the rooftop is sometimes locked, so ask for the key before you head up.
Photo by R. Brockmann